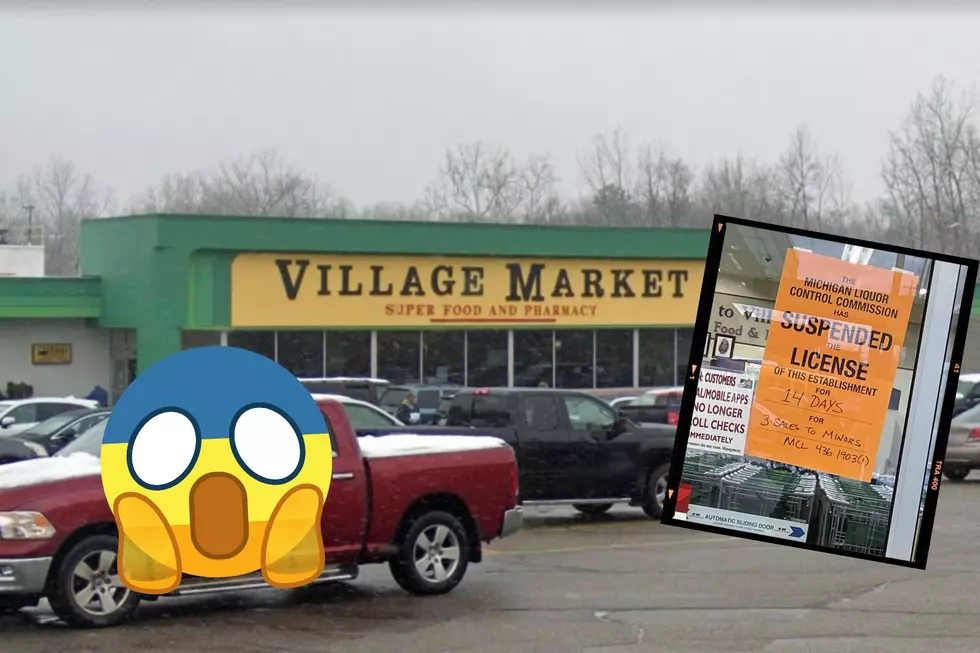 Allegan Area Grocery Store Gets Liquor License Revoked, Again
Google Maps/Canva/Lauren G-TSM
For the second time in nearly two months, a local grocery store in Allegan has had its liquor license suspended.
On Tuesday, January 3, signs were posted on the doors outside Village Market stating the establishment had violated state liquor laws by allowing three minors to purchase alcohol.
Essentially the only grocery store in Allegan, Village Market will not be able to sell patrons alcoholic beverages including beer, wine, and liquor for the next 14 days. With the signs having just been posted on Tuesday, that would mean alcohol sales should resume after Tuesday, January 17.
What Went Wrong?
Allegan residents were disappointed by this new violation as the grocery store had just had its liquor license suspended for three days back in November 2022 for the same offense. What's going on at Village Market and their gas station, Village Express?
Some commenters were quick to come to the store's defense on local Facebook group Allegan County Informed including Magenta Baker who explained,
I work at both. There is a new sign/ban because it finally made it through the court system after the holidays were over...There was a training course done not to long ago for every single person who runs the registers both store and gas station...both locations are connect liquor license wise. The "stings" happened over I believe 2-3 years and this was the third strike hence the ban. The 3 day ban and 14 day ban were both from the same incidents.
What's the Punishment?
According to the Michigan Liquor Control Code of 1998 the liquor commission, "...may assess a penalty of not more than $300.00 for each violation...or not more than $1,000.00 for each violation of section 801(1)."
For the first violation of furnishing alcohol to minors, a license may be suspended for 1-30 days, 2nd violation results in 31-90 day suspension, and a third offense means revocation of the liquor license.
What Happens Next?
Throughout the 14-day suspension, the alcohol section of Village Market will be roped off. The store has recently implemented a new policy where valid IDs must be scanned in order to purchase alcohol, a feature the cashiers say they are unable to override.
In the meantime, Allegan residents can purchase alcohol at stores like Dollar General, Mighty Midget, Riverside, Rite Aid, and most gas stations other than Village Express.
Yes, There's An Actual Apartment in This Old Silo in Allegan
This is definitely one of the most unique apartments you'll see today.
Join Michigan's Craft Beer Scene! Tapistry Brewing For Sale in Bridgman
The sale includes 2 properties in Bridgman, Michigan.