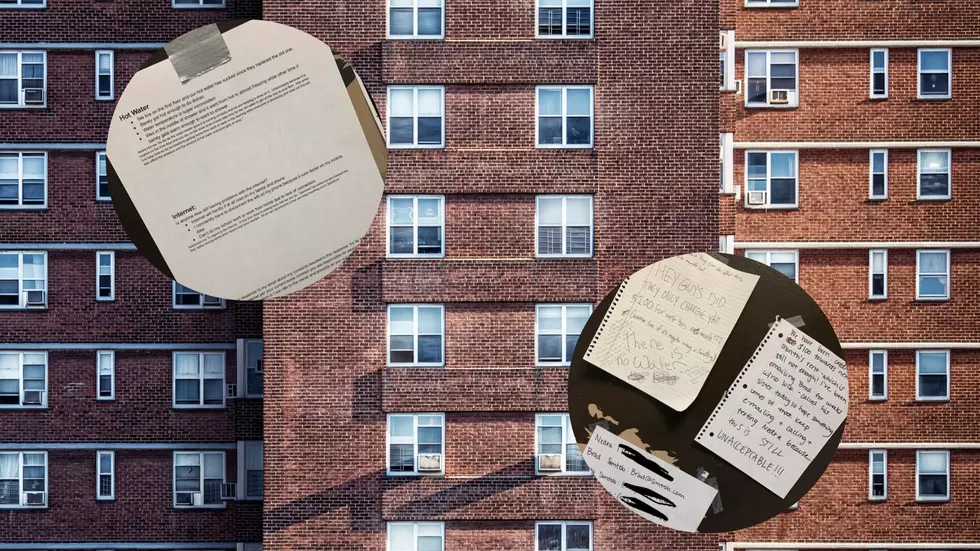 Kalamazoo's Kendall Off Main Apartments Roasted for Poor Service
Canva/midgethepuff Reddit
The Kendall Off Main Apartments, which are mostly used by college-aged or newly graduated individuals, is being put on BLAST all over social media for their management skills. Renters have been making complaints without anything being done to fix the issues and refusing to respond to emails or give out further contact information.
There have been complaints from several residents involving multiple different issues without the apartment complex but after no action being taken, a "message board" began to go up in the hallway. Renters began sharing their concerns with each other and inadvertently create a union.
One of the renters took to Reddit to share the story of their horrific living conditions with the rest of the Kalamazoo community and received plenty of support and advice in return. After a few exchanged messages with other renters to confirm user u/midgethepuff posted this on Reddit:
Wi-Fi Woes
As you can see the tenants have been having some serious issues that would alter the way any of us live in the current state of the world. How is someone supposed to be a college student in today's age without a stable internet connection?
I understand larger electronics like laptops, video games, smart TVs, etc. to have trouble loading Wi-Fi, but a cell phone? That's wild, I understand that service may not always be the best, but complexes are required to provide quality internet services in today's day and age.
Not So Hot Water Heater
Not having hot water is one of the biggest inconveniences that one can have, especially during the winter months in Michigan. Now, of course, some things happen, and a hot water heater could break or go bad, but an immediate and correct replacement is mandatory, or at least I thought so.
According to the renters, they had their hot water heater go out and after making complaints to the ownership they replaced the tank with a 50-gallon tank for 18 units which according to hot water heater guidelines is 80 gallons less than what is recommended for that many units.
Then the only response to the tenants complaining about the new tank was that those who live on the first floor just need to give the hot water time to get down to their apartments from the third floor.
Also, avoid showering at high usage times like getting home from work, early morning, dinner time, etc. because this affects the amount of hot water everyone can get at once.
Ignored Implications
After being ignored multiple times, tenants began to communicate with one another, coordinating their responses to management and what their next steps would be. They even mention starting a group chat to hide their conversations from management and withholding rent until their complaints were addressed correctly.
Many commenters on Reddit were giving props to the tenants for standing up for themselves and encouraging them not to back down so that this ownership group would be held accountable. They did say that they should get with a lawyer and put their rent money into escrow instead of simply withholding it to avoid any eviction scenarios.
Lastly, the original author of the Reddit post had exchanged some text with one of the managers and posted screenshots of their messages within the thread as well.  
As you can see above the renter was trying to ask about concerns that they had previously brought to the ownership's attention and was searching for a phone number to contact one of the owners. Instead, she was met with messages encouraging her to move out and break her newly signed lease since she wasn't happy.
I won't tell you that you shouldn't live in the Kendall Off Main Apartments, but I will say to be weary of these kinds of scenarios with all apartments. Finding an affordable yet nice apartment can be difficult in the Kalamazoo are and the Kendall Off Main tenants are learning that the hard way.
Grand Rapids Former Fire Station Remodeled into Modern Apartments Has Hit Market
Yes, there's a fire pole!
An authentic, historic firehouse that originally housed the GRFD Engine No. 8 in the early 1900s is
for sale
for $899,999 on Grand Rapids' West Side.
See The Notorious B.I.G.'s Apartment That Is on Sale for $1.7 Million
This Cute Little House Looks Just Like the Apartment on 'Friends'
Remember Monica's apartment on Friends? Sure, its purple walls and aqua cabinets may have been a little garish, but we grew to love them - so much so that this homeowner has recreated the iconic living quarters in this cute little house.
This house in Dayton was previously a short-term rental on Airbnb, but we just learned from the listing that it was sold earlier this summer. Hopefully, the new owners are fans of Rachel, Ross, Monica, Chandler, Joey, and Phoebe.