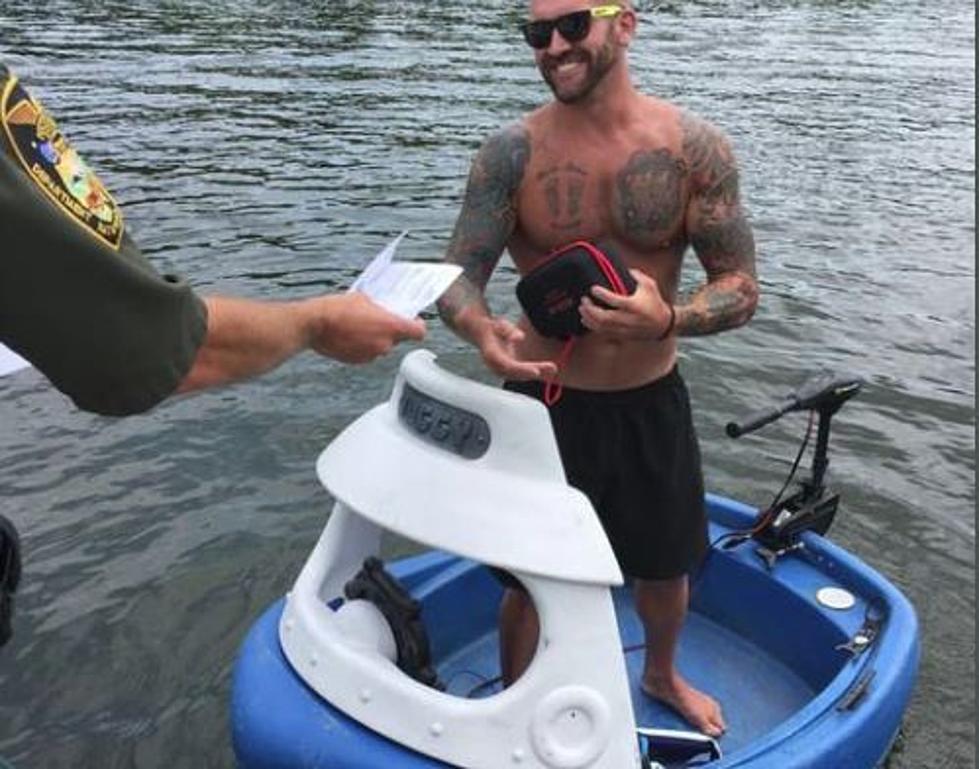 Indiana Man Legally Registers Little Tikes Boat & Takes It For A Ride
Indiana DNR Law Enforcement Facebook
Nick Riley, a Kentucky native, has been turning a ton of heads recently after the Indiana DNR law Enforcement's Facebook page took a picture of what appeared to be them ticketing a man who apparently was riding a children's Little Tikes tug boat in Lake Monroe. On top of that, he even strapped a motor to the back of the thing to make it legit. It turns out that Riley legally registered the boat, as Indiana DNR came to question the legality of his motorized boat.
It turns out that the DNR wasn't ticketing Riley in the picture, but handing back the registration for the motorized vehicle. As silly as it sounds, the children's novelty toy is a legal boat, as the DNR cleared some the circulated rumors:
To answer the question if he was receiving a ticket is no. The boat is registered and I was handing him his registration paperwork back. He was totally legal and a fun guy to chat with.
Riley told WishTV that this isn't the only boat he's made:
We have cup holders, we have boat cleats so we can tie it up to other boats. We recently just put a blue tooth speaker. I did not bring it with me but you can have tunes while you're driving your boat.
I haven't been able to find a site where you can order one from this dude, but I'm gonna be keeping a serious eye out, as this is the way to travel in style.
Kayaking in Michigan 2020
Here Are Some of The Sexiest Cars From The 6th Annual Mackinac City Mustang Show
The 6th annual Mackinac City Mustang Show took place on Saturday, July 17th and these were some of the sexiest cars I saw while there.