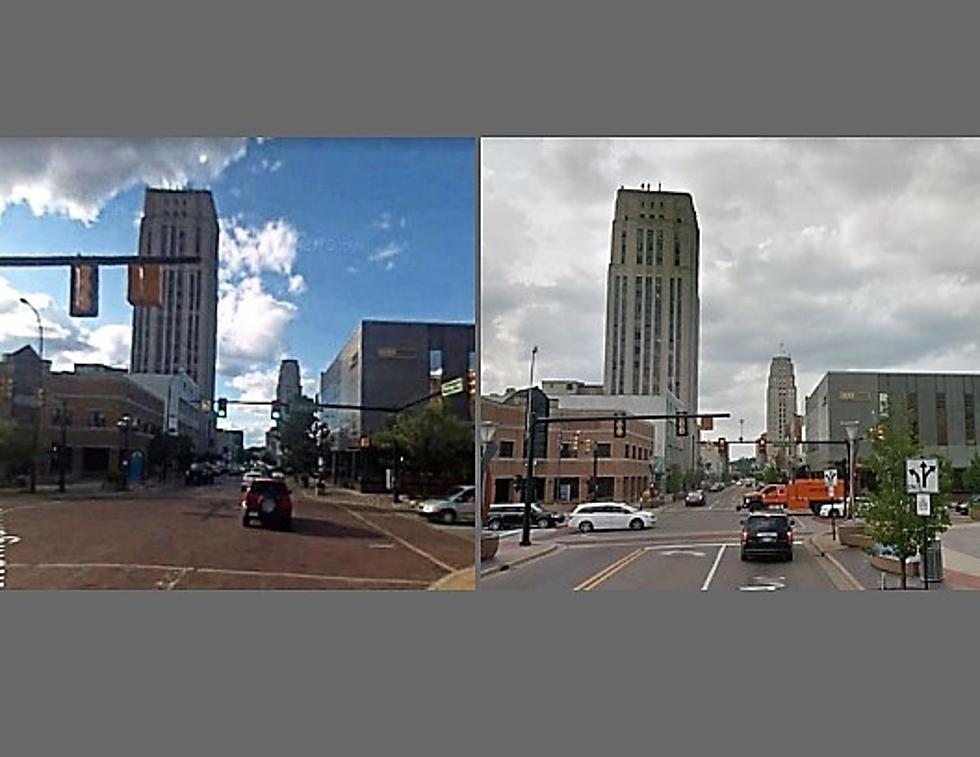 Battle Creek Takes The 'How Hard Did Aging Hit You' Facebook Challenge
Downtown Battle Creek 2008 (L) 2018 (R) Google Images
Facebook's latest popular post everyone seems to be participating in is the "How hard has aging hit you?" challenge. People post 'then and now' photos side by side to show how much they have changed over the last decade. But what about our city?
We relied on the internet archives of Google Images to take a look at how areas of the city have changed over the last 10 years or so. Google street view is the fascinating technology that powers our satellite navigation.
Take a look as we compare areas of Battle Creek from yesteryear to today.
Full Blast
The most noticeable change here since 2009 is the added signage with the logo for Full Blast and Kellogg Arena as well as the posts for the stoplight and street sign.
 Lakeview Square Mall
The revamped logo on the sign currently visible along I-94 used to be void of the names of stores in the mall. Now the mall is becoming more void of the stores named on the sign. Sadly, it may look more like the 2007 sign again soon.
FireKeepers Casino Hotel
This chunk of land along I-94 east of Battle Creek has certainly come to life in the last decade. The 2008 photo was taken about one year before Firekeepers opened and you can see construction was well under way.
Columbia Ave. & Riverside Drive
A lonely grassy lot at this intersection now is the home of the Circle K gas station and Car City became Auto Maxx.
225 W. Michigan Ave
The lot that once was home to the four story brick building which housed On Deck Sports Bar and Grill (formerly Sports Page) now sits empty. The over 100-year-old building was demolished in 2014, nine months after a fire destroyed most of the interior.
294 Highland Ave along Columbia Ave
In a span of ten years, the old Felpausch store morphed into Planet Fitness.
Heritage Tower
Battle Creek's tallest building has sat vacant for most of the last decade, but is active once again through a major overhaul that is breathing life into the historic structure.
If you want to see your childhood home or a place from your past, go to Google Maps. Type in the address, then drag and drop the little yellow guy into the street. Take a look at the box in the upper left corner of the screen. If it has a clock, you can turn back time and see other years Google was in your old neighborhood.
To keep it updated, the Google car is constantly driving somewhere and can be seen cruising the streets of Battle Creek every couple of years. (If you see it, be sure to smile, you're going to be on the internet.)