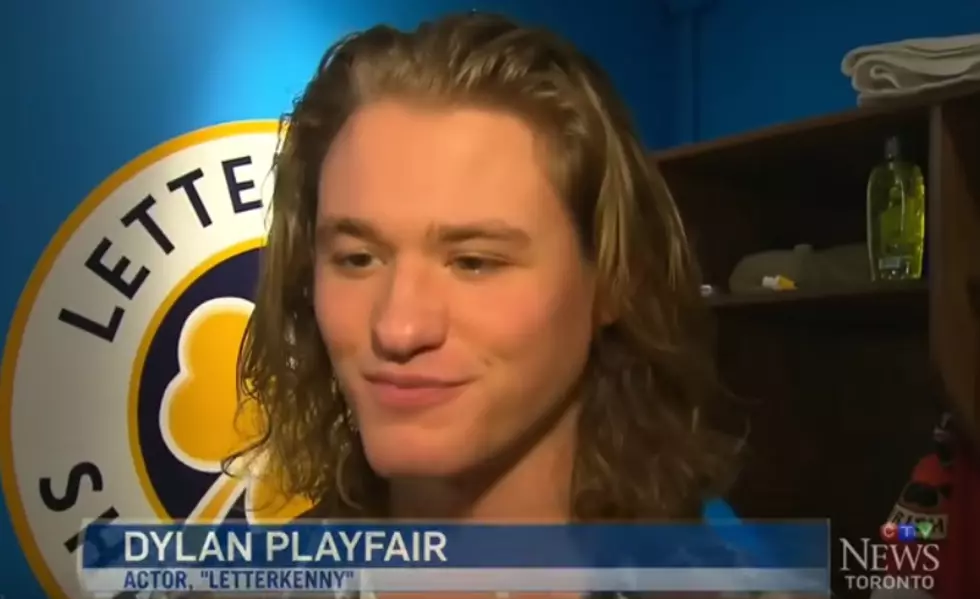 Remember This Kid in Kalamazoo? He Now Stars in A Hulu Comedy
Dylan Playfair, of "Letterkenny" on Hulu. Playfair spend several years of his childhood in Kalamazoo when is dad was a coach with the Michigan K-Wings. (CTV via YouTube)
You never know where people will end up when they grow up. Most get regular jobs and lead normal lives, known only to their friends and families. But then, some grow up to be famous.
Dylan Playfair has lived in a lot of cities, because his dad, Jim Playfair, was a professional hockey player (with NHL stops in Edmonton and Chicago), and then a coach (with a stop in Kalamazoo during a three year stint as an assistant with the K-Wings, during their "Michigan K-Wings" years.). Jim eventually became coach of the Calgary Flames, and now is the associate coach with the Oilers.
Dylan remember those times in the late '90's, as  told to The Athletic in 2019:
"He'd go to K-Wings games and there, in the middle of the hoopla, was Pops. 'All the fans, sitting in the seats, cheering and yelling and banging on the glass, then seeing your dad on the inside? That was something that always sparked a lot of joy and pride in me," he said. "I remember thinking, 'Whatever I do in my life, it has to be big,' because you're supposed to build on what your parents do, and I always thought my dad set the bar pretty high.'" - The Athletic story on hockey kids.
Jim and wife Roxanne have three kids. The eldest, just a young kid during the K-Wings years, is now 28, and is one of the stars of "Letterkenny", a Canadian comedy that started out on YouTube, but then was picked up by Canadian streamer, Crave, and is now streaming on Hulu in the United States.
Letterkenny is very Canadian. If you love Canadian Gas or Trailer Park Boys, this is right up your way. It's about life in a small Canadian town and the various group of people that populate that town. Playfair's character, Reilly, represents the hockey jocks.
(CTV via YouTube)
But it's not just comedy the Playfair can do. He's also in Disney's Descendants 2 and the upcoming Descendants 3. And will be in the new Mighty Ducks TV series, as Coach T.
Playfair has put an impressive number of credits on his resume already, including playing Red Wings legend Gordie Howe's son, Marty, in a movie about Mr. Hockey, a few years ago. He's also getting involved in producing and directing.
Enter your number to get our free mobile app
Celebrity Kids Who Look Exactly Like Their Famous Parents