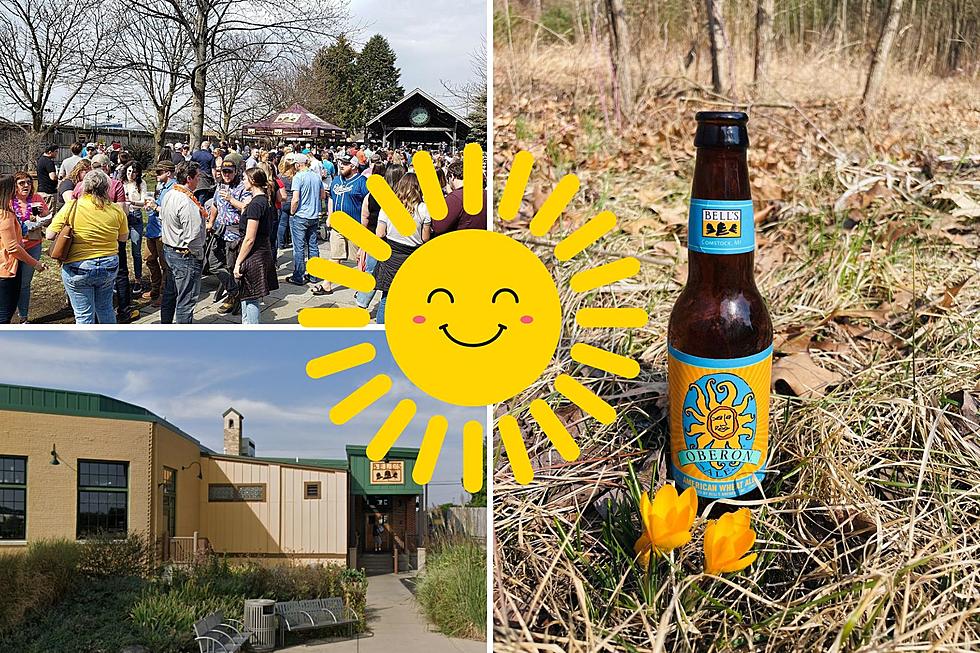 Here's How To Celebrate Bell's Oberon Day In Kalamazoo
Dave Benson-TSM/Canva/Google maps/Amy Paff with permission
Spring in Michigan is quite fickle, to say the least. However, real Michiganders know it's not truly spring in The Mitten until Bell's Brewery says it is.
Be sure to mark Monday, March 20 on your calendar. Not only is the official first day of spring but it's one of the biggest "unofficial" holidays in Michigan-- Bell's Oberon Day!
About Bell's Oberon
Originally called Solsun, the American wheat ale is often referred to as "sunshine in a glass." Each spring bars and brewpubs throughout the state, and even across the U.S., celebrate the arrival of patio season by tapping the first kegs of fresh Oberon.
Come Monday, March 20 you may notice the office seems a bit quieter. No, there's not a new strain of Covid going around-- everyone is out "sick" because they're attending Oberon release parties across town!
If you want to celebrate the first day of spring in style, here are various Oberon Day parties in and around the Kalamazoo area:
If you can't wait another second to get your hands on the first batches of Oberon, head downtown to Green Top for their annual midnight keg tapping and pajama party! Dress up in your coziest PJs and enjoy Oberon from midnight until closing time at 2:00 a.m.
---
Once again the Kalamazoo-based donut mill will celebrate the first day of spring with their annual Oberon donut topped with Oberon-colored sprinkles, candied orange slice, and pretzels. The donut will be available on Oberon Day starting at 5:00 a.m.
---
With the brewery located in town you might as well go straight to the source! Bell's taproom will host a special opening at 10:00 a.m. to kick off their summer camp-themed release party.
Not only will the original Oberon be on tap, but so will their special variations which include pineapple jalapeno, fruit punch, and raspberry hibiscus Oberon. Enjoy live music, games, photo booth, camp craft table, and hang with your friends from WKFR while you're there celebrating.
---
The entertainment center is celebrating the release of Oberon in style. From 11:00 a.m. to 7:00 p.m. they'll be serving up $2 pints of the "golden elixir." Enjoy bowling, classic arcade games, and even axe-throwing while you're there!
---
We had phenomenal weather for Oberon Day 2022, I'm hoping we get just as lucky again this year. Seriously, the City of Kalamazoo needs to make Oberon Day an annual  holiday.
Be sure to check here for more events and shenanigans throughout West Michigan. Cheers!
Join Michigan's Craft Beer Scene! Tapistry Brewing For Sale in Bridgman
The sale includes 2 properties in Bridgman, Michigan.