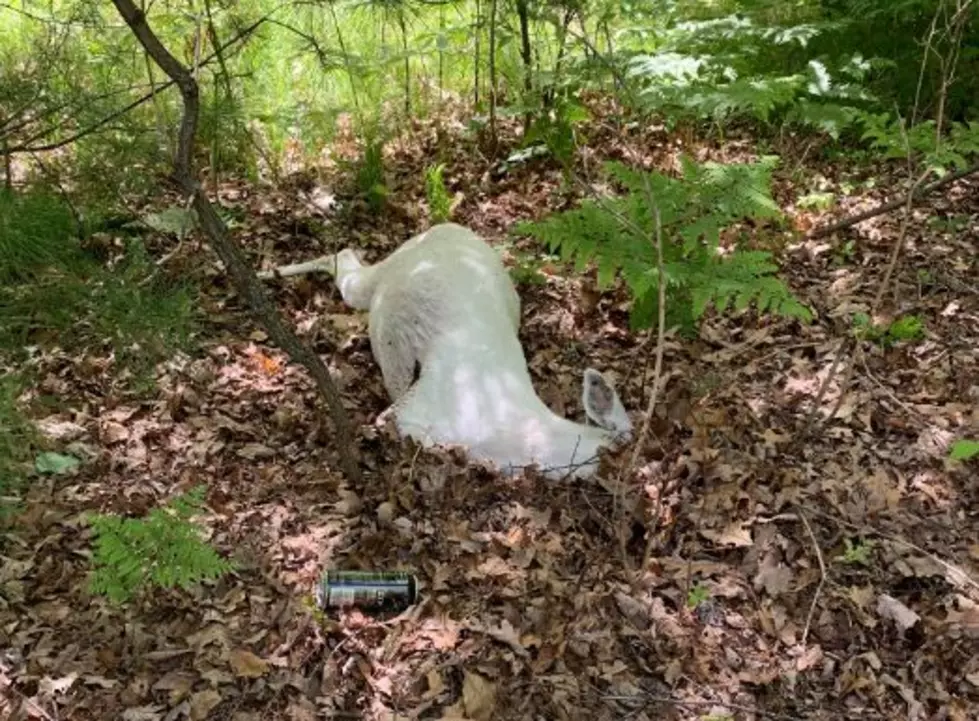 Michigan DNR Seeking Justice For Slain Lake County Albino Deer
Michigan DNR Facebook
UPDATE: The Poacher Strike Force is offering a $3,500 reward  for any information identifying the individual(s) responsible and/or leading to an arrest. Their mission is to end wildlife poaching and bring attention to this issue on a global scale through a variety of methods such as investigations, reward schedules, social media, programs and supporting/assisting wildlife enforcement agencies. They are active in all 50 states and Canada currently.
Sad news coming out of Irons, MI as the well known Albino deer that people spot regularly has been killed, and the Michigan DNR is looking for any evidence that could lead them to find out why it happened. According to the DNR, the deer was killed with a crossbow between 5 a.m. and 7 a.m. on Sunday, May 30th, and was found along the border of one of the resident's property lines along North Bass Lake.
Investigating conservation officers said the deer was shot by a crossbow, likely from the road, between 5-7 a.m. Sunday. The deer was laying at the edge of someone's yard, along North Bass Lake Road, about a half mile north of 10 1/2 Mile Road. Anyone with information is asked to contact the DNR Report All Poaching Hotline at 1-800-292-7800. You can call or text 24/7 and remain anonymous. Tipsters may qualify for a cash award.
Another beloved albino deer was recently discovered in Marquette, named Marshmallow, and can be seen here in a video with another deer.  Researchers say albino deer are born once in about 20,000 births, while others say it' could be one in every 100,000 births. Although controversial, it's totally legal to hunt white deer and has been since 2018
There have been a handful of Albino deer spotted in Michigan and although it's legal, wouldn't someone's conscience kick in at any time and just chose to let the animal live for everyone to enjoy? I get if you're hunting for food, but poaching an animal and just leaving it for dead is so terrible, especially an albino deer.
9 Animals That Are, Surprisingly, Legal to Own in Michigan