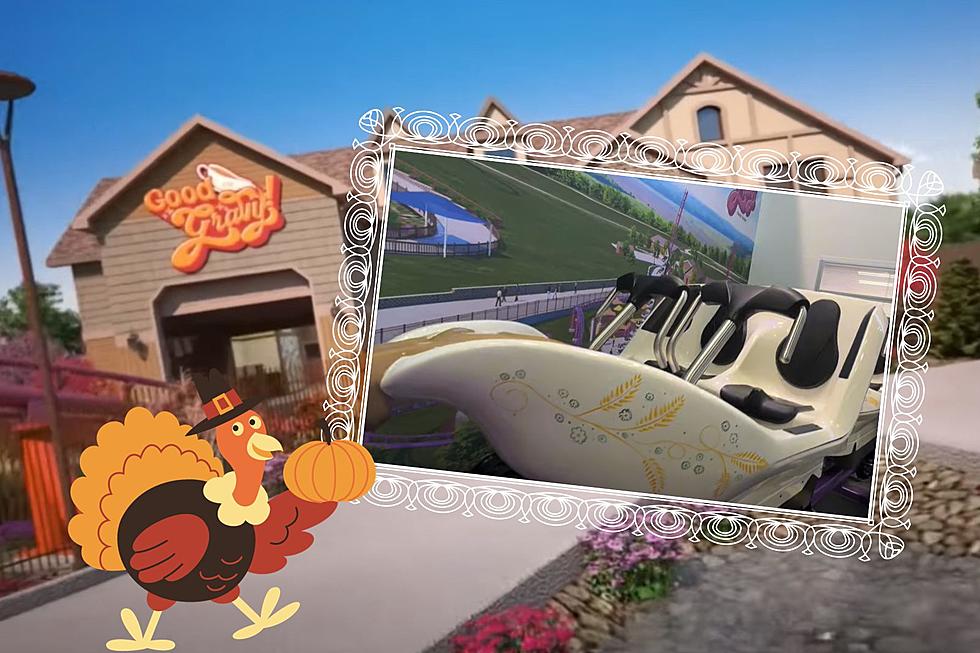 Good Gravy! Indiana's New Thanksgiving-Themed Roller Coaster Takes Shape
EYNTK • Travel, Food, Lifestyle & After Hours via YouTube/Canva
Indiana does holidays in a big way. Just ask anyone who lives near Santa Claus!
Santa Claus, Indiana, that is.
Holiday World Theme Park
If you're late to the party like I was, you may not have realized there is a massive 125-acre theme park tucked away in Indiana called Holiday World.
Originally called "Santa Claus Land" the park known as Holiday World is exactly what you think it is! The theme park has different sections of the theme park dedicated to such holidays as Halloween, 4th of July, Christmas, and Thanksgiving. Crazy, right?
Hang on because it gets crazier.
Good Gravy!
Over the summer theme park announced its next major project: a Thanksgiving-themed coaster called "Good Gravy!" and YES, the passenger cars are giant gravy boats. 
Passengers will traverse through a giant can of cranberry jelly (canned is best!) while narrowly avoiding oversized kitchen gadgets such as whisks and rolling pins. Nearly 1500 feet long and and 70 feet high, the coaster goes both forwards and backwards and will reach a top speed of 37 mph.
Not exactly thrilling, but at least you won't toss up your turkey dinner!
Sneak Peek
Just in time for the Thanksgiving holiday here in the States, coaster enthusiasts were treated to a first look as Good Gravy! finally begins to take shape. At the recent expo for the International Association of Amusement Parks and Attractions (IAAPA) reps from Holiday World unveiled the new passenger cars:
This sounds like some bizarre Honey, We Shrunk Ourselves-type situation come to life-- and I'm here for it. Good Gravy! is expected to open May 2024.
Check Out All 17 Roller Coasters at Cedar Point
Cedar Point has 17 roller coasters in the park the whole family can enjoy. From fast to friendly, how many have you been on?
Gallery Credit: Chris Monroe
9 Gone But Not Forgotten Cedar Point Rides You May Remember
Cedar Point has been around for over 150 years and has seen some great coasters. Many rides have come and gone. Check out nine classics here.
Gallery Credit: YouTube
Michigan's Most Iconic Fast Food Mascots
Gallery Credit: YouTube