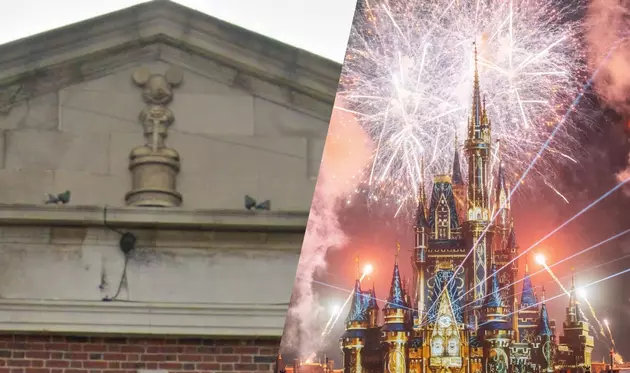 Why Is Mickey Mouse Sculpted On This Old Detroit School House?
Google Street View
I recently came a cross a really strange feed on Facebook where someone had noticed that on the crossroads of Kercheval and St Jean in Detroit, there appears to be somewhat of an old school house that at the very top center, has a sculpting of Mickey Mouse on it. What's really strange is there are only rumors of why it's there, yet I've not seen one piece of legit information from anyone or on any kind of Disney site. There is one interesting theory on Reddit however, but it seems a little over the top for just one show:
It's entirely possible, with Disney's penchant for hiding Mickeys in all their productions, that the above building was used in the filming for Tiger Town. It notes that the main character, Alex leaves school at one point to go to a Tigers game. Without knowing the exact location in the movie, it's entirely possible that this building served as the "school" which Alex attends.

 
Tiger Town was a made-for-television sports drama movie and was the first television film produced for the Disney Channel and starred Roy Scheider, who played the lead role in Jaws . So I Could see how it being their first, maybe it was designed to be Alex's school, with the little Easter egg on the front, but again, there's no proof of that being the case.
Still, this building, which many call the St. Rose Building, has never had any kind of social media page or explanation from the city as to why Disney's trademark character is sculpted into this building, so who knows if we'll ever know.
Rent This Disney & Marvel Themed AirBNB at The Castle Near Grand Rapids
Did you know that just 10 minutes from Downtown Grand Rapids there's a Disney & Marvel Themed AirBNB available for rent? It's perfect for visitors who have kids, or are kids at heart.