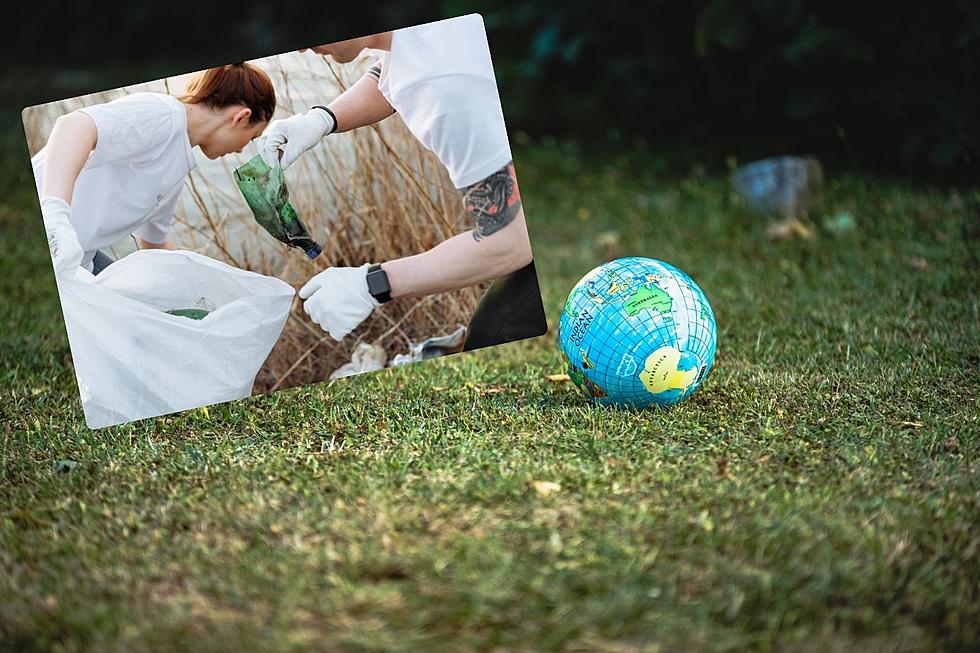 Earth Day, if you can believe it, is right around the corner (4/22).
It's a day to bring awareness to climate change and to bring people together to help clean up this planet we call home. In fact, earthday.org brings attention to the purpose of Earth Day, links to sustainable options for things like clothing, and lists all of the clean-up events set to take place on that day or that weekend.
Here in West Michigan, we have a number of events where you can participate in either a full-scale beach clean-up, park clean-up, and more. Here are at least 6:
---
Battle Creek
In Battle Creek, people are invited to participate in a widespread clean-up event targeting the river and other areas where wildlife may have been affected by litter or pollution. Below are the event details:
 When: Saturday, April 23rd, 10 am to 2 pm.
Garbage bags, gloves, and trash pickers to be provided for groups
Where to meet: TBD
If you can't attend this specific event, there's still a chance for you to be provided with the essentials needed to pick up trash if you wanted to dedicate a couple of hours on your own to clean up the area.
Find all the details on the Facebook event page.
Kalamazoo
1. KRVT Earth Day Cleanup
Hosted by ModeShift Kalamazoo, this clean-up event will focus on the Kalamazoo River Valley Trail.
When: Saturday, April 23rd, 10 am - 12 pm
Where: Meet at Arcadia Commons in downtown Kalamazoo
Trash bags are provided but you'll need to bring your own gloves, water, sunscreen, etc.
The goal is to pick up as much trash as you can in that two-hour period with prizes for those who collect the most trash. See more on the Facebook event page.
2. Burdick Street Block Clean-Up
This event is focused on downtown Kalamazoo and will actually take place on Earth Day.
When: Friday, April 22nd, 9:30 am to 11:30 am
Garbage bags and water provided
You'll need to bring your own gloves
The Burdick Street Block Clean-Up is hosted by the 60th District Service Office of State Representative Julie Rogers. Find more information here.
3. Kalamazoo Community Cleanup 
This event is hosted by Bee Joyful, Michigan's first zero-waste shop. However, it's taking place on the Monday following Earth Day.
When: Monday, April 25th, 4:00 pm to 6:00 pm
Where: Mayors Riverfront Park
All ages welcome
Buckets and trash bags provided
Attendees are encouraged to bring their own non-disposable gloves
While it is free to attend, registration is encouraged. Find out more here.
Grand Haven
In the Grand Haven area, Aldea Coffee and My Barefoot Wedding are hosting a beach cleanup for Earth Day.
When: Saturday, April 23rd, 11 am to 1 pm
Where: Grand Haven State Park
You'll need to bring your own supplies
If you're interested in donating supplies you can find contact information as well as any other information about their upcoming event here.
Ferrysburg
Just up the road from Grand Haven, Ferrysburg is having its own Earth Day cleanup.
When: Saturday, April 23rd, 1:00 pm to 4:00 pm
Where: Ottowa Sands County Park
This cleanup takes place both on land and in the Grand River
This event calls for volunteers who are comfortable with a lot of walking and/or paddling. They're accepting both single and double kayak volunteers but, all volunteers need to register. Learn more here.
---
Are there even more cleanup events out there scheduled for Earth Day weekend? Definitely.
- Earthday.org has an interactive map outlining all of the registered events, both private and public that you can see here.
- Grand Rapids has a series of coordinated events across the city.
- Kalamazooearthday.com is celebrating Earth Day throughout the month of April. They have a calendar with challenges and even more events happening on Earth Day weekend and beyond. See it here.
Of course, if you can't find an organized event near you but you still want to help Ol' Mother Gaia, you can always slap on some gloves, snag a trash bag, and pick up whatever trash you see.
Every little bit helps, right?
Craziest, Coolest & Weirdest 2nd Hand Finds In Michigan In 2021
I scrolled through all the Michigan listings this year and so far I've come across some real winners. Below is is a list of some of the best finds, most of which were no doubt purchased. Still, it's all good fun.
15 Ways You Can Help People in Ukraine Right Now
As Americans watch events unfold in Ukraine, many wonder how they can help. Below is a list of organizations responding to the crisis in Ukraine along with information on how you can support their various missions.