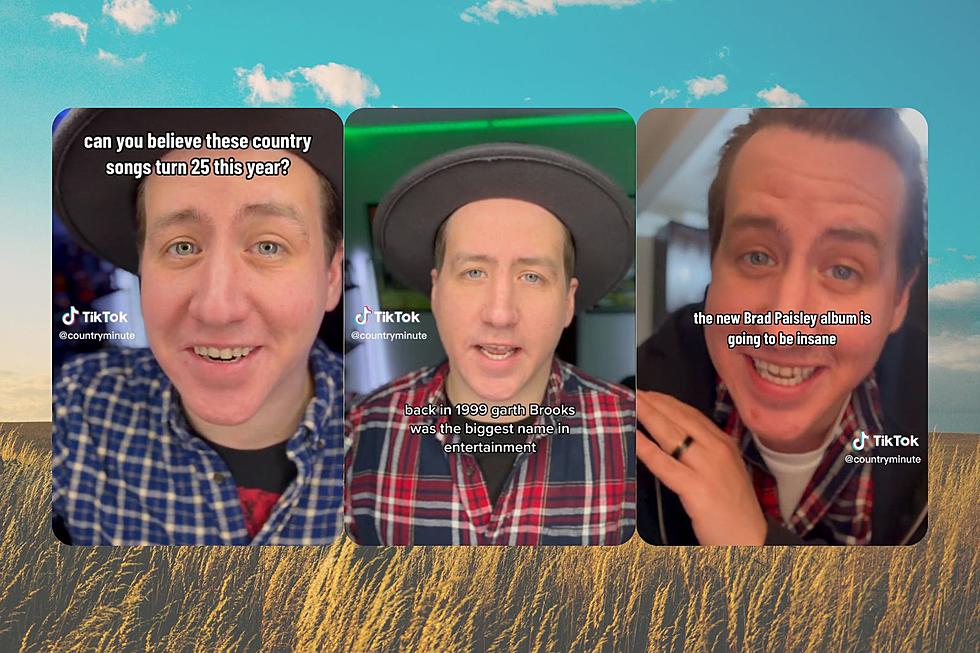 Love of Country Music Lands Kalamazoo Native 15k Tiktok Followers
Via/ Tiktok, Via/ Canva
I have to be honest, Country is not my genre of music.
Now, don't get me wrong. I don't hate it. It's just not my go-to music preference. Unless we're talking about Dolly Parton or Shania Twain. In that case, I make everyone around me shut up until those queens are finished singing.
I have found, however, that people who love country music...loooove country music. Like Kalamazoo area native, James Shotwell.
James' passion for country music led him to create his TikTok page, @countryminute. There, he posts facts about musicians that you may not have known. Like, how Brad Paisley is fighting the opioid epidemic currently ravaging West Virginia with new music:
He also reminds us that we're all getting older with videos about songs turning a certain age. These, for example, are all turning 25 this year:
And, he talks about my personal favorite country music fact...the legend of Chris Gaines:
James isn't new to the music industry, though. Previously, he worked more with rock and metal music and helped musicians grow their social media audience. But, in 2022, he felt like he needed a change. We've all been there, right?
Breaking into a new genre, even when you've been working in the music industry for a long time, can be challenging. James knew that, if he was going to be taken seriously, he would need to separate himself from his previous rock/metal focus. Thus, the TikTok account @countryminute was born.
While the shift in genres may seem dramatic, James says that country music has been a part of his life since he was a child. In fact, his mother was a part of the Billy Ray Cyrus fan club during his Achy Breaky Heart success.
As far as his favorite country artists are concerned, he says that changes by the day, But, he said that currently, he's.
on a steady audio diet of Zach Bryan, Tyler Childers, and the latest album from Muscadine Bloodline. That said—there is a huge group of newcomers I have my eye on, including Shane Profitt, Megan Moroney, and 49 Winchester.
While James has a goal of getting to at least 25,000 followers on TikTok, what he really cares about is connecting people with music and artists that will change their life.
Follow @countryminute on TikTok for more country music news and content. Or, find his website here.
A big thank you to James for taking time out of his busy day to answer my questions. Can't wait to see what you do from here!
We feature a local TikTok creator every week for TikTok Tuesday. You can nominate yourself or someone you know below. Reminder, we like to focus on people in the SW Michigan area with at least 10,000 followers:
Check out a few of the accounts we've featured in the past below:
23 Biggest Southwest Michigan TikTok Creators in 2023
These are the TikTok creators in Southwest Michigan ranked by followers. Updated 01/13/2023
10 Items You Cannot Donate to SW Michigan Goodwills
If you're planning on donating items to your local Goodwill, these items will NOT be accepted.