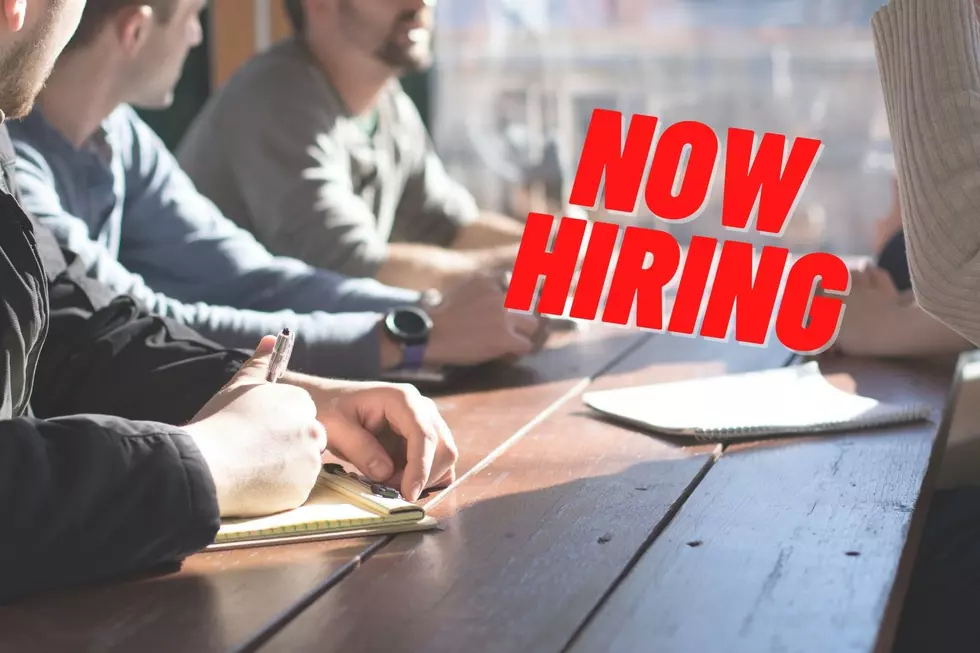 New Year, New Career? 6 Jobs Hiring Now in the Kalamazoo Area
Via/ Canva, Photo by Dylan Gillis on Unsplash
The new year often brings with it a sense that things need to change. Maybe it's your workout routine, maybe your diet, or maybe your career.
Changing jobs can be a very daunting and often overwhelming experience. But, if you're feeling miserable in your current position, a change might be necessary. Taking a look at sites like Indeed and Simply Hired, there are a number of job openings currently listed for the Kalamazoo area.
Granted, there are a lot of niche job listings. But, going site by site, I'm going to try to list the three most... non-niche job openings available. If that makes sense. That way, everyone can apply.
Indeed.com
1. Operations Manager for Landscape Forms 
Salary: not listed
Benefits: insurance benefits (available your first day), 401(k), family and parenting leaves, tuition reimbursement, wellness programs, quarterly bonuses, and paid time off.
Responsibilities: (to name a few) ensure safety guidelines are followed, lead meetings, work to implement and improve the accuracy of production, and a lot more
See the full job listing here.
2. Dental Receptionist/Scheduler for Michael S. Leonard, D.D.S.
Salary: $18-$20 an hour
Benefits: 401(k), paid time off, dental insurance, employee discount
Responsibilities: greeting and checking in patients, scheduling appointments, verifying insurance, collecting payments, answering phone calls and assisting with patient business needs
See the full job listing and other required qualifications here.
3. Warehouse Package Handler for FedEx (Portage) 
Salary: $16.15 or $17.15 /hour to start, plus an additional $1.00/hour if full-time.
Benefits: Medical, dental and vision benefits after a short waiting period, flexible scheduling, paid parental leave, and employee discounts.
Responsibilities: loading, unloading, and sorting of packages of various sizes while working in a fast-paced environment.
See the full job listing here.
Find all of the current job listings from indeed.com here.
Simply Hired
1. Inventory Associate for Harley Davidson (Portage) 
Salary: $30,000 to $50,000 a year
Benefits: dental insurance, health insurance, paid time off, employee discount
Responsibilities: (to name a few) Manages employees and operations related to the Inventory Control Department. Operations could include but are not limited to: supervising and executing plans for maintaining inventory accuracy in Parts & Accessories, MotorClothesTM; conducting daily inventory analysis to solve inventory problems; supervising physical and electronic cycle counting and annual inventories
See the full job listing here.
2. Parking Attendant Wings Event Center 
**This is part-time and temporary**
Salary: $20k to $27k
Benefits: check with the employer as most benefits apply to full-time positions
Responsibilities: direct cars into the lot in the correct order, check for passes and direct them to the correct location, and collect fees from patrons. Expect to be on your feet for up to 8 hours.
See the full job listing here.
3. Intake Youth Development Professional for Boys and Girls Club of Greater Kalamazoo (part-time) 
Salary: $15 an hour
Responsibilities:(main) overseeing the intake process, maintaining member records, and acting as the first point of contact at Club locations.
See the full job listing here.
Find all job listings on Simply Hired here.
---
Now, you can also browse Zip Recruiter to see current job openings or, take to the local Reddit page. Just two days ago, a post was asking for decent job recommendations with locals to Kalamazoo giving their suggestions. See the post here.
Of course, there are other very specific industries you can get into. Cannabis, for example, is a rapidly growing industry. There are five states where you can hop into that field legally:
Top 5 States for Legal Cannabis Jobs
20 High Paying Michigan Jobs You Can Get Without A Degree