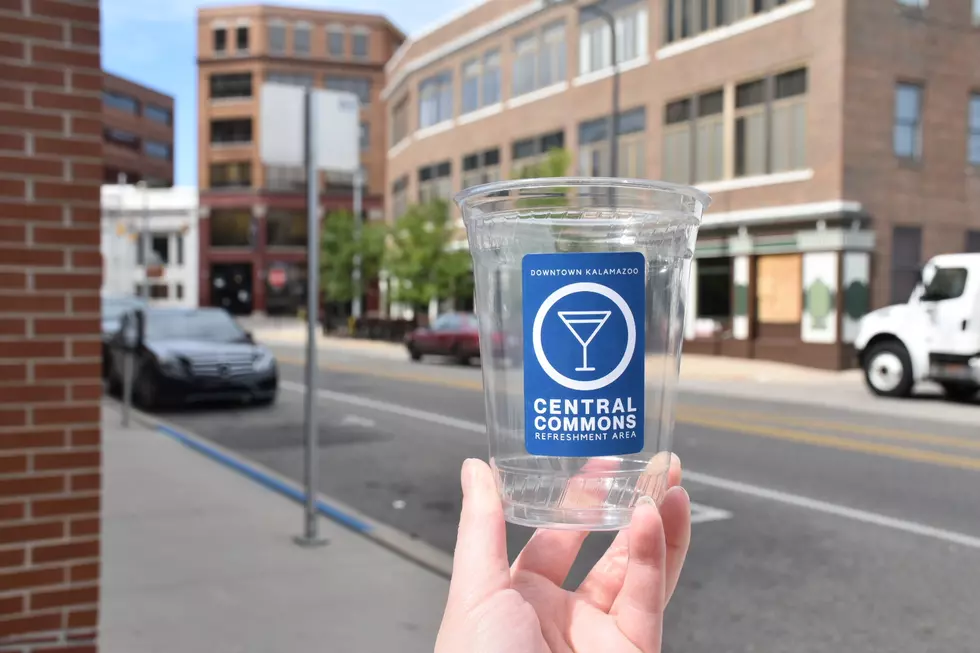 Downtown Kalamazoo Launches Outdoor Social District
(Photo provided by Downtown Kalamazoo Partnership)
As the pandemic heads into fall, the Downtown Kalamazoo Partnership is launching a "Central Commons Refreshment Area".
What it is is the creation of a "outdoor social drinking district and Central Commons Refreshment Area which allows people to bring drinks purchased from licensed establishments and take them between locations within the commons area."
What is shows is a lot of establishments that serve adult beverages are hurting, witness that this effort was unanimously approved by both the Kalamazoo City Commission and the Michigan Liquor Control Commission last month. It may be over simplifying it, but think of Art Hop, but with these cups that you can take with within the social district boundaries.
"With the spring closures, and having had to operate at reduced capacity for several months, this has been a tough year for the hospitality industry. The launch of the Central Commons Refreshment Area gives the community an opportunity to come downtown, support local businesses in a safe, socially distant manner, and adds to the atmosphere and character of downtown" - Kalamazoo Downtown Partnership President Andrew Haan.
DKP say as of September 4, 2020, these places have been approved to serve within the Central Commons Refreshment Area:
Harvey's on the Mall (416 S. Burdick St. 5218)
Olde Peninsula Brewpub & Restaurant (200 E. Michigan Avenue)
Radisson Plaza Hotel (100 W. Michigan Avenue)
Tempo Vino Winery of Kalamazoo (260 E. Michigan Avenue)
The Stamped Robin (128 Portage Street)
Several others are waiting to get the official ok.
Fuze - kitchen & bar (214 E. Michigan Avenue)
Green Top Tavern (250 E. Michigan Avenue)
LFG (116 Portage Street)
Principle (230 S. Kalamazoo Mall)
Papa Pete's/Blue Dolphin (502 S. Burdick)
Enter your number to get our free mobile app
Here are the top 25 hits of the '80s based on their overall popularity.