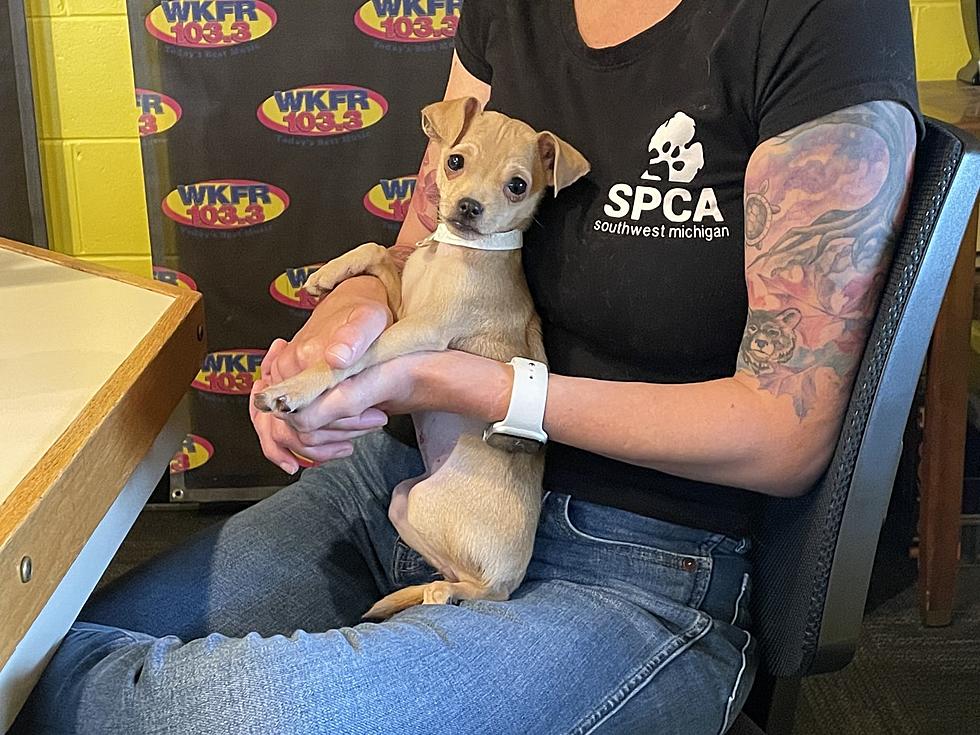 Tiny Pup, Porsche, Is Hoping to Wiggle Her Way Into Your Heart
TSM/ Chelsea Rose
Today, for Dog Days, we met this tiny puppy named Porsche.
Porsche is only 3 months old and is suspected to remain small. Although, it's difficult for the SPCA of SW Michigan to accurately determine how big an animal may grow because they often don't know who the animal's parents are.
I can tell you from the cuddling I did with her this morning that Porsche, currently, weighs maybe 2 pounds. But, that doesn't stop her from bursting with energy the moment you pick her up. And, if you love puppy kisses, this is the dog for you. I don't know how something that small managed to cover my entire face with kisses but she did.
Look at that face. She was so concerned that she wouldn't be able to give me kisses at that exact moment. Porsche is spayed, up to date on her shots, and will be available for adoption starting tomorrow during a special event benefitting the SPCA of SW Michigan.
Callander Commercial is hosting a pet adoption event tomorrow, Friday 7/23, from 1:00pm - 5:30pm. The adoption fees for the first 4 dogs and first 4 cats adopted will be completely covered by Callander Commercial. Porsche, along with her two siblings, will be at this event. You can find more information on the event here.
Fosters Badly Needed
If you're not in the place to adopt an animal long term but still want to help the animals at the SPCA fostering is an incredible way to do it. And badly needed.
This morning Katie told us that, for some reason, the influx of animals to the shelter has been overwhelming. Even the sister shelters that the SPCA works with are full of animals needing new homes.
With fostering, the costs of food and any medical needs are completely covered. You're giving that animal a break from being in the shelter while simultaneously making room for any other animals that may come into the shelter. Plus, you're helping them become more socialized and therefore more easy to adopt out.
If you have the capability I implore you, on behalf of the SPCA, to give it some consideration. You can find all info on fostering here.
If you LOVE dog then stick around and read these 50 fascinating dog facts 😍
Check out these 50 fascinating facts about dogs: