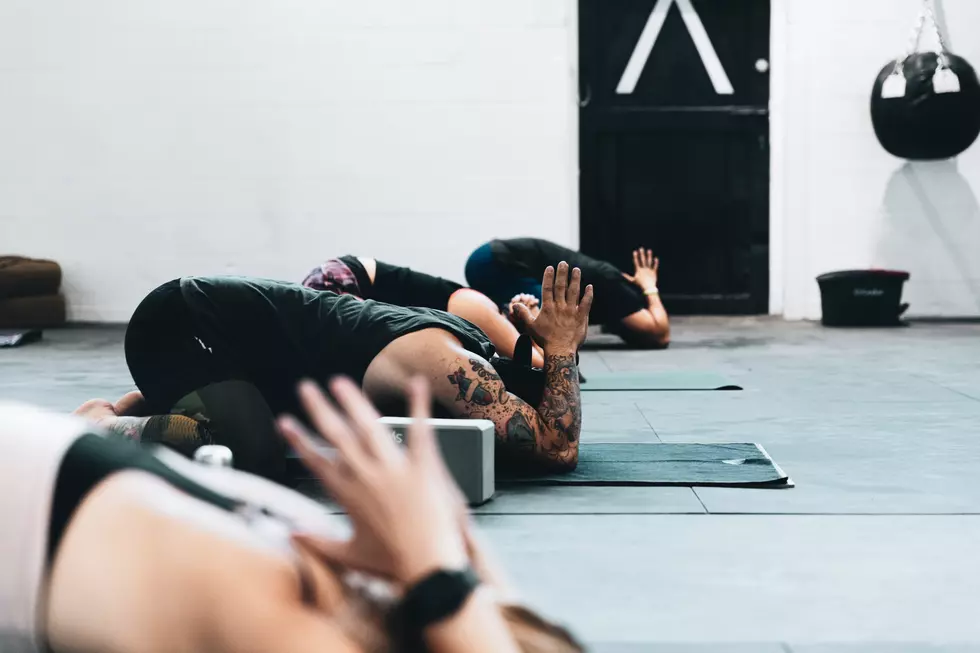 A new year always brings about new, personal goals for individuals. Maybe they're career-oriented. Perhaps they focus on personal growth. Or, maybe they involve making yourself happier and healthier.
While many people tend to join new gyms to get "swole" as the kids would call it, wanting to find a more peaceful way to keep yourself moving is a worthwhile goal. With that in mind, I've put together a list of local spots in Kalamazoo and Portage offering yoga classes you can try for $20 or less.
After all, sticking to a budget is another common goal for the new year. Find your zen without breaking the bank at these 5 studios:
---
1. Kalamazoo Backyard Yogis 
One of the newer yoga studios in town, Backyard Yogis started as the name suggests...in a backyard. Since 2021, they've been hosting pop-up yoga classes in barns, bars, parks, beaches, and so on. Now, they have their own studio on Fulford Street in Kalamazoo.
They offer a variety of different classes and prices. Everything from family classes, prenatal and postnatal classes, and even one they've dubbed "No More Sunday Scaries." All of those classes, which you can see here, are under $20 (per class) to attend. Or, you can check out their plans which range from $5 to $700. See them all here.
2. Bent 9 
Bent 9 focuses on hot yoga, barre, and fitness and offers a variety of classes incorporating each style. That includes Restore, which is all about relaxation, Hot Flow 75, which is 75 minutes of hot vinyasa yoga, and Vin/Yin which combines the best of both worlds, according to their website.
As far as pricing goes, you can purchase a plan for a monthly unlimited membership for $125, purchase a class package that ranges in price depending on how many classes you buy or drop in for $18. See all pricing info here.
3. Intentional Yoga 
Intentional Yoga, on South Westnedge Ave in Portage, has a class for everyone no matter their fitness level. Most of their classes seem to be "hot". Meaning, the rooms are kept at temps of 95 degrees and hotter.
As far as pricing goes, an individual membership is $129 a month. Class packages range from $90 to $450. Or, you can just drop in. For an in-studio drop-in, the price is $20 but, they also offer virtual classes where you can drop in for $10. Find all of their classes and pricing information here.
4. Sanctuary Yoga 
According to their website,
Sanctuary Yoga is a place to explore and discover your inner world through the ancient practice of varied Yoga traditions.
They have at least six different instructors offering different kinds of yoga classes like Yoga for Men, Yoga for Healthy Aging, Yoga for Balance and Joy, and more. Most of the classes are listed at $17 per class. Find more information here.
5. Move With Joy 
Move With Joy, in Portage, acts as a dance, yoga, and pilates studio all in one. They offer classes for both kids and adults where you're free to drop in any time for just $10. They do have class packages and monthly memberships, too. You can find their pricing and class schedule, which includes classes like ballet, hip hop, acro dance, yoga, and more, here.
---
Getting the body moving, in any sense, really is helpful for both the mind and body. Even if it's just for 20 minutes, taking a walk, doing a routine with weights, or doing yoga will go a long way. Read more here.
And hey, if finding love is on your list for 2023, here's how you can craft the perfect "Pure Michigan" dating profile...
How to Craft the Perfect Pure Michigan Dating Profile
Forget the bathroom selfies! You're bound to find true love in the Mitten if you include these Pure Michigan prompts.
Indoor Pickleball Courts Near Kalamazoo
A perfect sport for any age or skill level, check out these indoor pickleball courts in and around Kalamazoo.