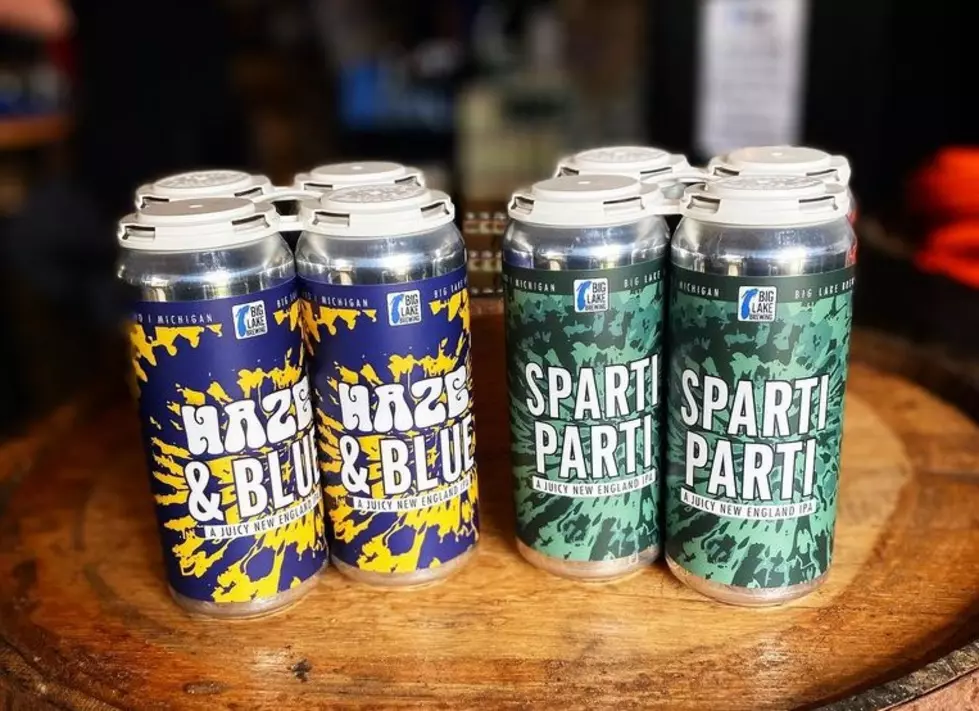 No Big 10 Football This Fall; This Brewer Tries To Fill The Gap
Big Lake Brewing's new "Haze & Blue" and "Sparti Parti" New England IPAs (Photo: Big Lake Brewing)
There's not going to be any college football this fall in these parts, but a West Michigan brewery is going to try and fill the gap. As we all know, you don't need football to have a good rivalry (thought it does help.).
Big Lake Brewing in Holland is brewing a couple of beers for fans of the two biggest football programs in the state. Haze and Blue and Sparti Parti, won't take the place of actual games, but will fill the desire for an adult beverage for fans 21 and over.
Big Lake describes Haze and Blue as "a classic Lake Haze IPA brewed with real Blueberries." It clocks in at a nice 5.6%.  Sparti Parti is "a New England Style IPA featuring Mandarina Bavaria Hops, and Amarillo hops". It's ABV is 7.0%.
One thing that I noticed about Big Lake Brewing is they are heavily invested in the New England and Hazy IPA style of beer. (By the way, not necessarily the same thing.) Scrolling through their website, I counted 8 beers of either one or the other. (NEIPA's are my favorite style of beer, so good for them, eh?)
By the way, I was curious about the origins of the New England IPA, and actually found a great explanation on an Australian beer site. First of all, what is it?
A New England IPA is a style of American IPA that features an intense, tropical fruit centric, hop aroma and flavour. It's heavily dry hopped to the point of being hazy and has a fuller body, smoother flavour, and less perceived bitterness than typical IPAs. -BeerCartel.com from Australia
But I also learned the style of beer isn't much more than a decade old, and then only really exploded on the beer scene about 2015.
Enter your number to get our free mobile app
CHECK IT OUT: Here Are the 77 Most '70s Things About 1977