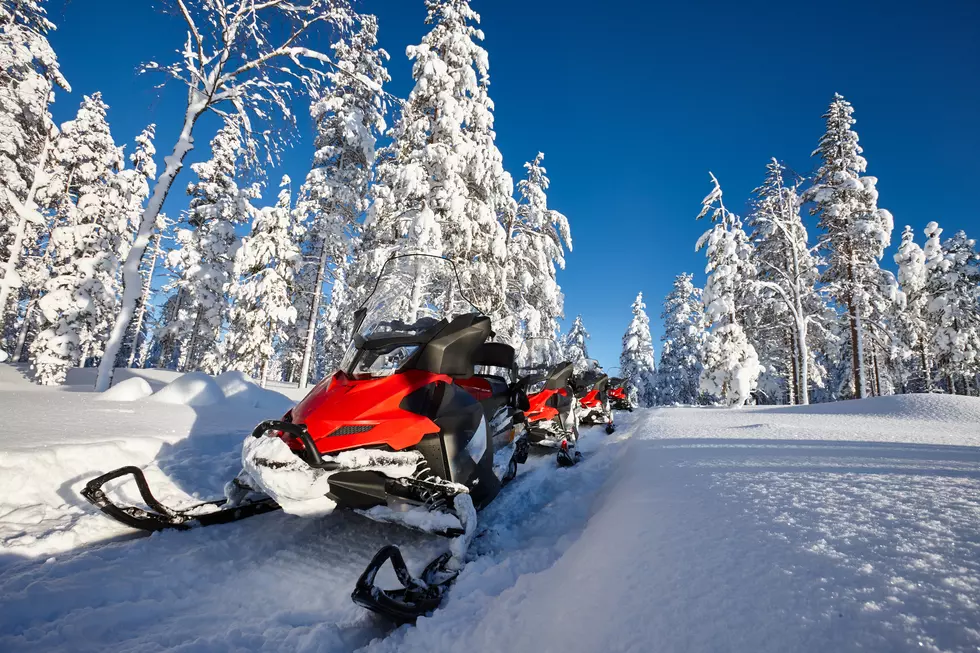 How Michigan Snowmobile Riders Can Prevent Another Tragedy
Getty Images/iStockphoto
Don't forget about safety when hitting the trails this winter
A young lady who lived in Orion Township and attended Lake Orion schools, has been killed in a snowmobile accident.
The accident happened this past Tuesday (Nov. 12th) around 4 pm. Mlive reported that a 13 year old girl killed in a snowmobile accident. Oakland County Sheriff's Office reported that the girl was riding with a 13-year-old boy when their snowmobile struck a snowmobile being driven by the boy's father. All were riding helmets, and there is no word on what happened to cause the accident.
Such a tragic story, and it is with great hopes that we will not hear another like that this winter season. To help insure peoples safety as they take to the trails, here is a great list of snowmobile safety tips from Markelinsurance.com...
Check the weather forecast and the trail conditions. It is always a good idea to check the weather and trail conditions to plan ahead. If the trail is frozen, the wind chill is too low, or a blizzard with white out conditions is in the forecast, you will want to plan your ride for another day.
Inspect your snowmobile before your ride. Make sure your snowmobile is running properly before heading out on the trail. Having your owner's manual handy on your ride is a good idea for extra safety.
Carry a first-aid kit, emergency kit and repair kit. Keep a basic first-aid kit in the snowmobile in case of injury.
Stay alert. It is important to be observant and watch for obstacles in your path, such as rocks, fallen trees, barbed wire fences, ditches, open water, other snowmobiles, snow banks, animals, hikers and skiers.
Avoid frozen rivers. It is impossible to gauge the thickness of ice. Ice can easily crack and give way under your snowmobile.
Children under the age of six should never ride as a passenger according to the American Academy of Pediatrics. The snowmobile can ride rough and it takes a strong person to hold on tight, especially for long periods of time. Children younger than six lack this strength.
Do not speed. Driving at a moderate pace will allow you to react to an unexpected occurrence on your trail and avoid an accident. Many trails have posted speed limits to follow.
Stay on the trail. Marked trails are safer because they have been groomed for you and are less likely to have hazards. 
Driver should be the age of 16 or older. It is also strongly recommended by the American Academy of Pediatrics that children under the age of 16 do not operate a snowmobile.
Never drink and drive. Just like driving a car, operating a snowmobile while impaired can lead to delayed responses and cause accidents.
Do not pull people on anything behind your snowmobile. Snowmobiles are not designed to pull sleds, skiers or saucers and it is very unsafe to do so.
Be safe on trails, but don't forget to have fun!