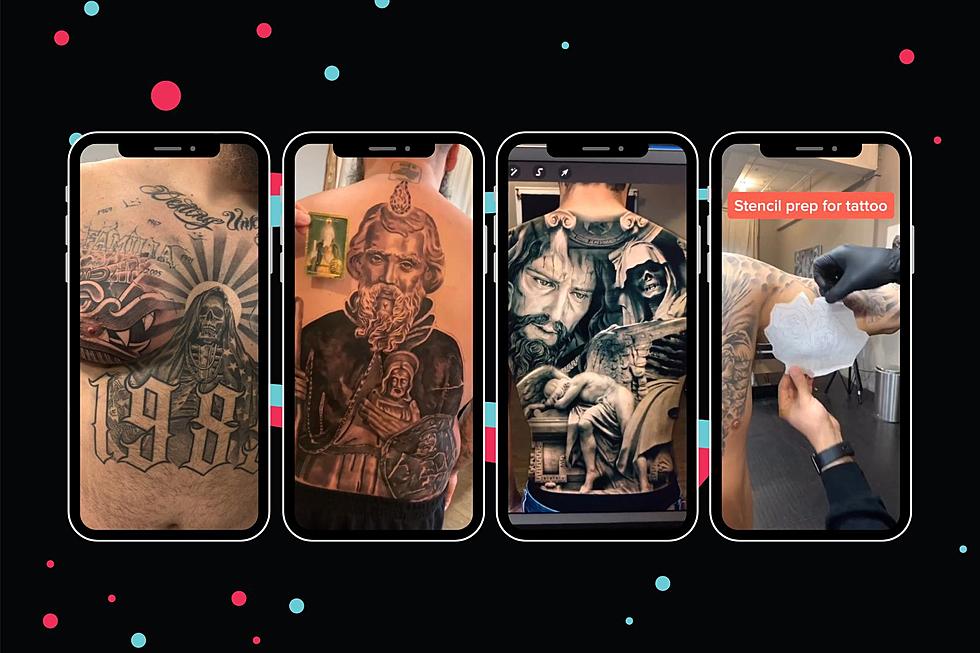 Kalamazoo Tattoo Artist Goes Viral With His Amazing Work
@manifoldartstudio on TikTok
A Kalamazoo tattoo artist has pulled in over a million views as he walks us through his most complicated tattoos on TikTok.
Rogelio Almaguer is a tattoo artist based out of Kalamazoo.  Almaguer has done it all from tattoos of beloved pets to complicated tattoos with religious symbolism.  Rogelio has also done a pretty cool Avengers tattoo recently.  He goes by @manifoldartstudio on TikTok where he has 27 thousand followers and 308.2 thousand total video likes.
Manifoldartstudio's most viewed video demonstrates how he prepares his stencils.  This video has been viewed 532.7 thousand times with 157 thousand likes.
---
This giant chest tattoo pulled in 291.3 thousand views and 14.7 thousand likes making it his second most viewed TikTok.
---
In this video, Manifold Art Studio is putting together a complicated back tattoo.  This TikTok has been viewed 238 thousand times with 23.2 thousand likes.
---
Speaking of complicated back tattoos, this one is amazing.  This TikTok has been viewed 165.2 thousand times with 22.8 thousand likes.
---
You can see more of Manifoldartstudio videos by clicking here.
You can follow 103.3 KFR on TikTok by clicking here.
If you or someone you know is a TikTok creator who lives in Southwest Michigan and has 10,000 or more followers, let me know. You can nominate yourself or someone you know below. Your nomination can be a person, local business, sports team...etc.
10 Most Common Languages Used In Kalamazoo Homes That Aren't English
8% of Kalamazoo Area home use a language other than English as their primary language and these are the top 10 from the population.
Gallery Credit: Canva
23 Biggest Southwest Michigan TikTok Creators in 2023
These are the TikTok creators in Southwest Michigan ranked by followers. Updated 08/29/2023
Gallery Credit: TikTok