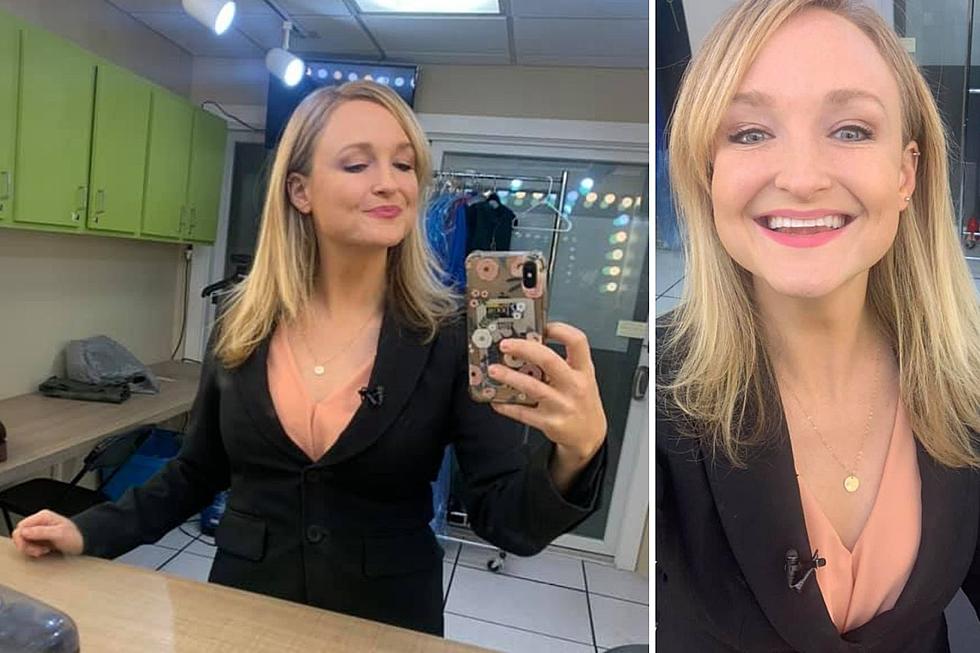 Local Meteorologist Turns Heads & Offends A 'Karen' With Her Peach Blouse
📷 Ellen Bacca/Facebook
WOOD TV's newly minted Chief Meteorologist, Ellen Bacca, was the recipient of some unwelcome feedback after pairing a peach-colored top with a black blazer for a recent newscast.
The meteorologist posted on her social media about a recent comment she received from a viewer who was apparently confused by the top, which was a little too close to Bacca's own natural skin color.
That confusion appears to have led that viewer to believe that Bacca had taken the air with a rather low plunging neckline that they found 'appalling'.
In the message, the viewer derisively comments about the "TV Weather Girls" and asks:
Why do you allow your girls to show so much of her breast on TV. It is appalling.

While commenting on any broadcaster's appearance is a true sign of a West Michigan 'Karen'. Bacca took the message in stride and posted it along with pictures of the outfit.
Ope! Sorry West Michigan! Looks like my peach shirt was a little too close to my own skin tone on-air and caused a few double takes in the newsroom and at home.
Some of Bacca's current and former colleagues also had some things to say in the comments section:
Oh how I miss these kinds of unsolicited and wildly irrelevant emails. -Lynsey Mukomel, Press Secretary for the Michigan AG
If breasts are appalling to this person, they must be horrified when they see me on their screen! -Emily Linnert, WOOD TV Anchor

While Bacca and most of the commenters had a bit of fun with the story, it should be noted that unfortunately these types of comments about TV news personalities are all too common, and too often they target women in the business. So as the old saying goes, "If you don't have something nice to say..."
The 'Luxury' Options From The Michigan DNR are a Glampers Camping Dream
The Michigan DNR is expanding its offerings beyond traditional tent and camper sites to reach campers of all types
CHECK IT OUT: Signs of Hope Around West Michigan
Rent This Disney & Marvel Themed AirBNB at The Castle Near Grand Rapids
Did you know that just 10 minutes from Downtown Grand Rapids there's a Disney & Marvel Themed AirBNB available for rent? It's perfect for visitors who have kids, or are kids at heart.