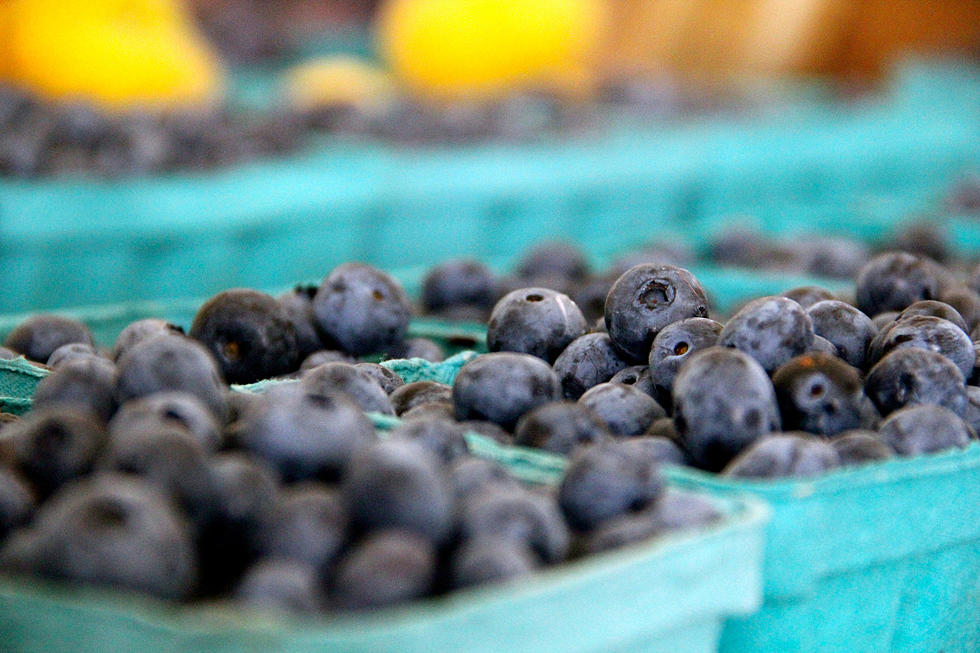 Before Season Ends: 7 SW Michigan Spots for Blueberry Picking
ErimacGroup
One of my favorite things about moving to Michigan is all of the local, freshly grown produce. Especially, when you can pick it yourself.
On the top of my list of things I don't want to miss out on before season ends: Blueberries. And I'm not alone.
Blueberry season generally lasts through August, which is quickly approaching. That may be why, on Kalamazoo's Reddit, u/KzooGooner89 asked,
Best blueberry picking in the area?
Yes, you can always google 'best places for blueberry picking' and get a fair amount of results. But, personally, I always trust the word of a local who has experienced it more than internet search results. On this particular post, people had plenty of suggestions.
Here are at least 7 spots in SW Michigan where you can pick some fresh blueberries before the season ends:
Brookside Farms has a few different locations in Michigan and was recommended by Reddit user kkexotic1234 who said,
Any of the brookside farms locations have awesome Upick fields with many different blueberry varieties. I prefer the one in gobles or martin, but they also have a paw paw location with a larger market than the other two.
According to their website, all locations are open Monday through Saturday. The Paw Paw and Martin/Otsego locations are open from 9am - 7pm while the Gobles location is open from 9am - 6pm. Growing seasons are never exact. With that in mind, you can follow Brookside Farms on Facebook for any updates.
Located in Allegan, this suggestion comes from Reddit user, KittyFoodMan. While I wasn't able to find many photos on social media, this farm is rated 5 stars on Yelp with matching glowing reviews on their Facebook page. According to their latest update, they're open every day from 7am - 7pm. You can follow their Facebook page for more updates or just give them a call at 269-673-3475.
This suggestion comes from Reddit user cbsteven who said,
Schultz is great and open Sunday. I was just there a couple of days ago and the berries are perfect.
Currently, there are two different types of blueberries you can pick. The Bluecrop, which are more tart or the Jersey, which are more sweet. Open 9-6 Monday-Saturday and 10-5 on Sunday, you can follow their Facebook page for updates or give them a call at 269-668-3724.
4. Joe's Blues 
Reddit user ciaoRoan suggested Joe's Blues. Located in Bangor, Joe's Blues uses all organic practices for growing their blueberries. They're open daily from 10am - 5pm and have multiple fields available for U-Pick. You can find directions on their website and follow their Facebook page for any seasonal updates.
As far as blueberry picking goes, this farm in South Haven is currently open daily from 9am - 6pm and you're encouraged to bring the whole family. However, Bumbleberry Acres also has a petting zoo, a playground, wagon rides and more. See all there is to do on their website and follow their Facebook page for all blueberry picking updates.
6. Stover's Farm Market & U-Pic
The latest review on Stover's Farm Market's Facebook page, which is 5 stars, says,
We had a fabulous time at Stovers. The owners couldn't have been more helpful and friendly AND the fruit is amazing!! I found the prices to be totally fair (if not on the cheaper side - we're used to spending way more on fruit here in Chicago).
Currently, Stover's Farm Market & U-Pic is open Monday - Saturday from 9am - 5pm. One note I feel I must include...there have been a few complaints about the bathrooms. One of the reviews even says that the staff gives you a warning that the bathrooms are, indeed, in need of a refresh. With that being said, perhaps you should plan on using the bathroom before visiting this farm. Otherwise, find all updates on their Facebook page.
This family owned farm is located just outside of Saugatuck. They offer U-pick in season but, according to their website, they custom harvest and process their blueberries to they can offer frozen blueberries year round. Blue Star Farms is one of the few that are open 7 days a week. You can stop by:
Monday - Saturday from 9am to 6pm
Sunday from 10am to 5pm
As far as availability of u-pick, baked goods, or the like, they seem to keep their Facebook page updated. You can follow them here.
There you have it! Whether you need your blueberry fix or are looking for a day out with the family, those are at least 7 spots in SW Michigan where you can do so! Have fun!
And if you're one of those already planning for Halloween (no judgement if I'm speaking directly to you) check out these dessert recipes perfect for spooky season:
LOOK: 34 spooky dessert recipes for this Halloween