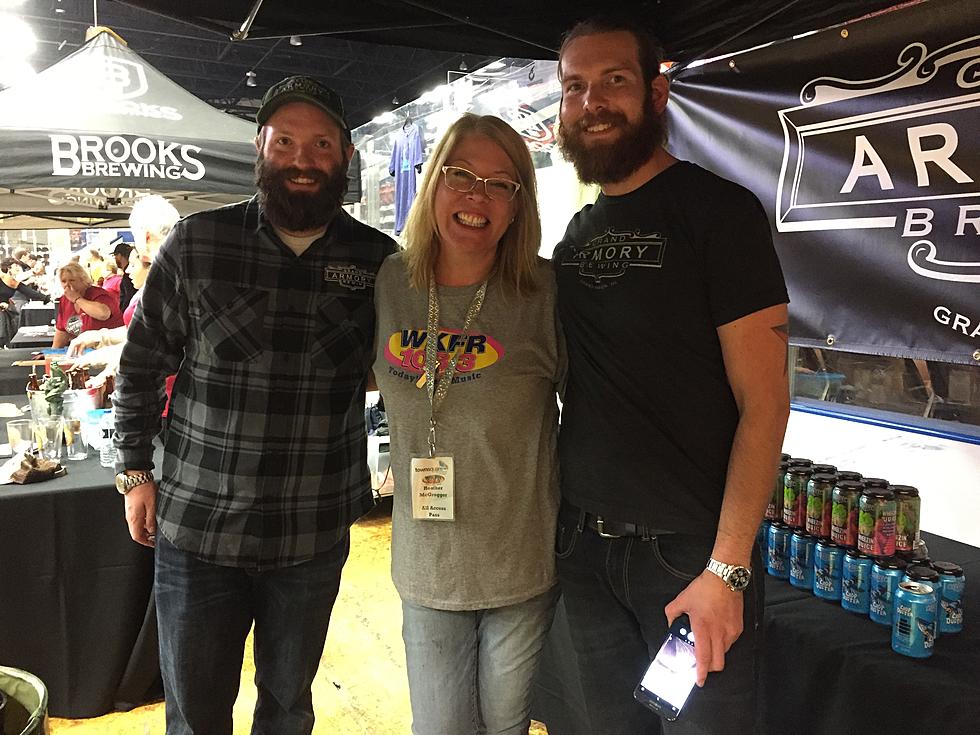 Did You Know There Is A Brewery In An Armory Here In West Michigan?
Heather McGregor/TSM
Serving up P&J brew's with these guys from Grand Haven Michigan at the Kalamazoo Beer Festival!
With Veterans Day right around the corner it was perfect that I got to pour beer for a really cool brewery located right here in a West Michigan Armory!
Grand Armory Brewing is a craft brewery with a focus on high quality, diverse styles of beer. Our taproom opened in July of 2015 at the Armory Building, a 112-year-old historic facility located at 17 S. Second St. in the heart of Grand Haven's downtown district, just blocks from the waterfront and Lake Michigan's beaches. Our taproom has 20 taps and offers many styles of ales, hand-crafted ciders, old fashioned sodas and wine.
For the Kalamazoo Beer Festival the Grand Armory Brewing Company served up...
A Juicy IPA For Nugs, Chillin, And Grindage. The Mosaic And Citra Dry Hop Makes You Feel Like You're In Encino, Sneaking Slushee Pulls Right Off The Machine.
Nutter Your Business Stout
Built On A Chocolatey Milk Stout Base, The Peanut Butter Makes This Beer Taste Like Your Favorite Proprietary Cookie. If Anyone Asks Why You'd Want A Beer That Tastes Like Dessert, Tell Them It's "Nutter Your Business."
Mother Schmucker's Raspberry Ale
A Blonde Ale With 100 Pounds Of Raspberries Added To The Fermenter. Try Pairing With Nutter Your Business For A Grand Armory PB&J! Or As We Like To Call It, "Nutter Your Business, Mother Schmucker"!
Cloudy With A Chance Of Hops
Cloudy With A Chance Of Hops Uses Oats And Wheat To Give A Balanced Body To This Double IPA. Amarillo, Falconer's Flight, Centennial And Citra Come Together To Produce A Juicy, Fruity Hop Aroma And Flavor That Is Low On Bitterness, But Big On Flavor.
That is just a taste of the great beers that have, but wait, that is not all they serve up!
 A unique community gathering space that opens early in the morning with coffee, scones, and a relaxed atmosphere, and evolves throughout the day into a brewery with great beer, food, and music – an ideal atmosphere for all ages and interests to enjoy themselves and their company.
The beer was delicious, the brewer and marketing director are so gracious, and the spirit of creativity runs wild around this company.
The Kalamazoo Beer Festival was an event filled with outgoing, crazy fun patrons and brewers; an annual event never to be missed!
BONUS VIDEO