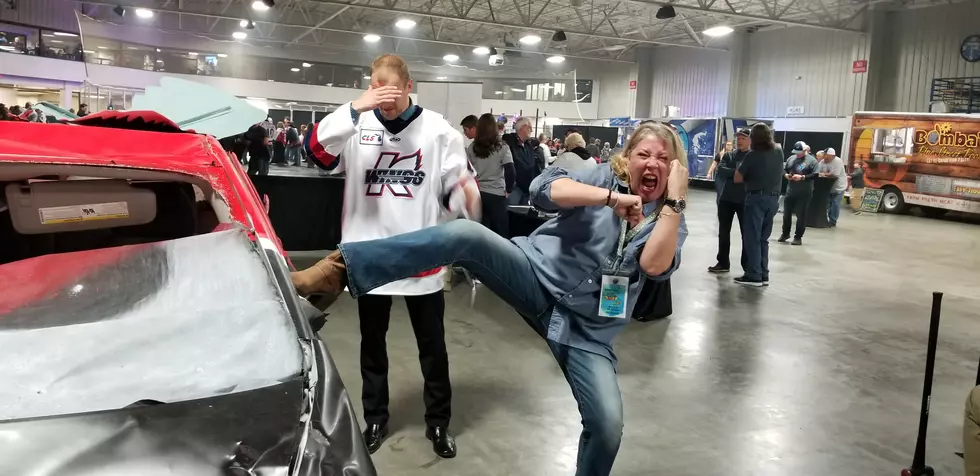 K-Wings Home Opener Was Kicking!
Theresa Bunch/TSM
Not only did the K-wings win their home opener in over time, but the pre-party was a blast!
Walking into the party I immediately located K-wing Eric Kattelus and had to get a photo with him. Most of the team was there signing autographs and kissing babies (ok, there was no baby kissing going on, but they were super awesome with all the fans).
The man...Eric Kattelus #15!
Meeting the great Eric Kattelus (#15)!
The Kalamazoo Wings Web-site boasts how wonderful it is to have a pro-team right here in our community...
The Kalamazoo Wings are more than just a pro hockey team. The experience of coming to a hockey game at Wings Event Center is unlike any other. From the sound of the goal horn to the smell of the fresh ice to the taste of the popcorn, a K-Wings game is a must for the entire family. Take in some of your favorite game night promotions, such as Star Wars Night, Marvel Night or the Green Ice Game. Check out the full promotional schedule and circle your favorite events in your calendar.
The K-wings make attending any or all games super fun for the whole family!
The food was great! Multiple food trucks were available for people to choose from. I picked Bomba's and had the best taco I have ever eaten. The taco was incredible and I plan on stalking this truck for lunch numerous times during the week!
Dinner for two with beer samples and some free give-a-ways!
As you meet the players and chowed down, there was entertainment! Not sure who the band was, but they sounded good, and they were fun to watch!
Saturday night was a great time to be a K-wings fan, Fun throughout the stadium, great music, incredible food AND an over time win!!
Not bad for a first game of the season! See you at the next one!