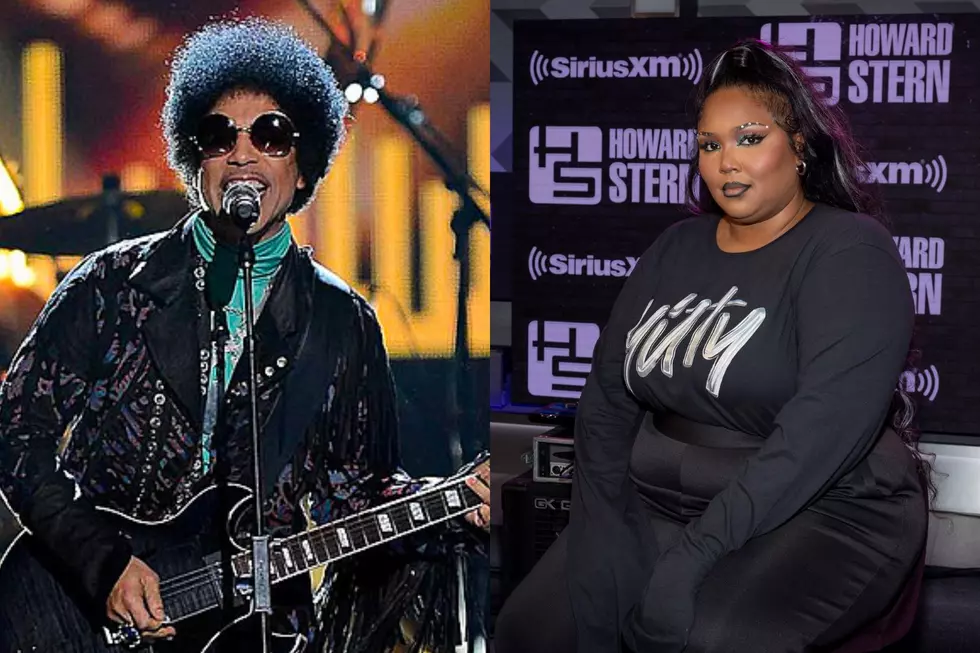 The Vow Lizzo Made After Prince's Death
Ethan Miller / Emma McIntyre, Getty Images for SiriusXM
Lizzo has revealed that Prince's death inspired her to make a vow that she's still fulfilling to this day.
After dropping out of college in 2011 and moving to Minneapolis the "Juice" singer began performing with a group named the Chalice at around the same time Prince was assembling a new backing band, another all-female group named 3rdeyegirl.
The Chalice's quick rise drew Prince's attention after they were featured on TV station KARE. "There was this documentary about local artists, and 3rdeyegirl, [who] is Prince's group, we were all coming up at the same time," Lizzo explained in a recent interview with Howard Stern. "Then the radio station there, the Current, I guess he e-mailed them, and they called us and they said 'Prince is looking for you.'"
Lizzo and bandmate Sophia Eris were then invited to Paisley Park to collaborate with 3rdeyegirl on the song "Boytrouble." Prince loved the resulting track and included it on 3rdeyegirl's debut 2014 album, Plectrumelectrum – one of Lizzo's first big breaks in the industry. "He paid us in increments of seven," she recalled. "I bought my first laptop."
In subsequent years, Lizzo and her bandmates would revisit Paisley Park to perform. The last time she saw Prince, he played a brief solo piano show for them and a small group of others, and before he died, Prince even offered to produce an album for Lizzo.
But beyond the musical creativity, Lizzo was most struck by Prince's infectious confidence. After his death in 2016, she made a public vow on Twitter.
"I said, 'I'm going to commit to positive music,'" Lizzo recalled on Stern's show, "'I'm dedicated to positive music and if you think I'm too happy' – because that was a criticism I got a lot. They'd be like, 'You're too happy, like, that's corny.'"
If you think I'm too happy, check yourself. Check if you're okay, because I'm going to spread love and positivity, and that's what Prince really wanted. I'm still doing it to this day, baby. Nothing but love and good vibes over here."
Watch Lizzo Explain How She Met Prince
25 Times Prince Crossed Paths With Rock's Biggest Stars
Ask a musician if they've got a Prince story to tell and they just might surprise you.