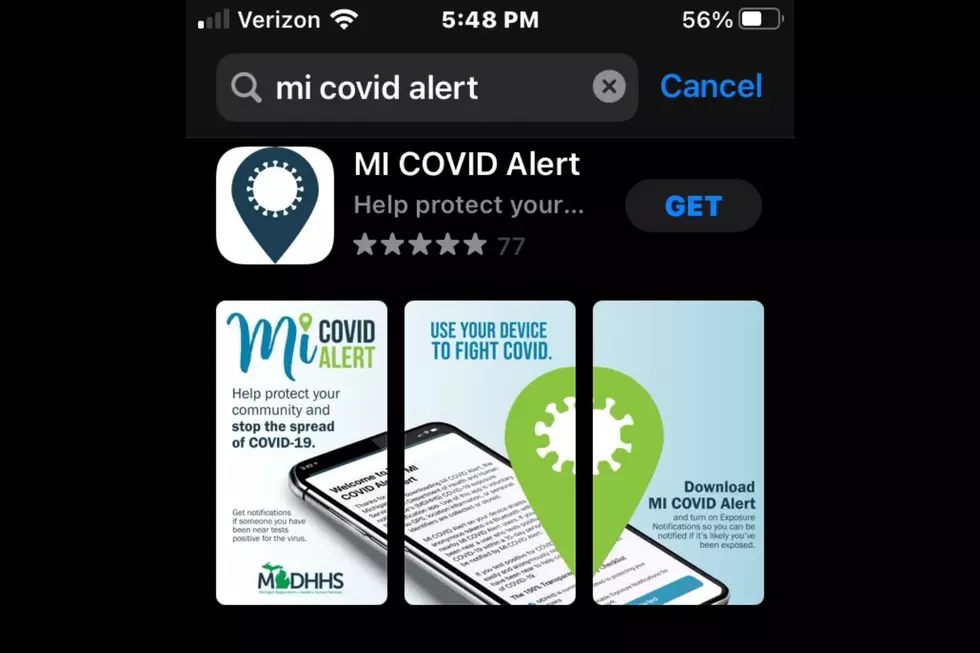 As Covid Skyrockets, Michigan Wants You Download This App
MI Covid alert app (Dave Benson, TSM)
On the day that it was announced legendary Michigan State basketball coach Tom Izzo tested positive for Covid-19, the state of Michigan, through the Department of Health and Human Services, is rolling out an app that was tested at Michigan State, and is the latest effort to deal with this recent spike and growth in positive tests both across the country and closer to home in southwest Michigan, ultimately hoping to prevent even more deaths.
This COVID-19 exposure notification app can found under MI COVID Alert in app stores..
The anonymous, no cost and voluntary app, was tested on the campus of Michigan State University last month. It allows users to know "whether they may have recently been exposed to COVID-19. Users can confidentially submit a positive test result into the app and alert others in recent proximity that they may have also been exposed to the virus," according to a state release today.
"COVID cases and deaths are now rising fast," said Robert Gordon, director of MDHHS. "Using MI COVID Alert on your cell phone is a simple, safe step that everyone can take to protect themselves and their loved ones. It's free, it's easy, and it protects your privacy."
Every Michigander is encouraged to download MI COVID Alert. Research from Oxford University found a potential to reduce infections and deaths, even if just 15% of a population uses an exposure notification app like MI COVID Alert. In the initial weeks of the MSU-Ingham County pilot alone, 46,704 people downloaded the app. The number is the equivalent of approximately 23% of Ingham County residents ages 18- to 64-years-old and nearly 16% of the total Ingham County population. - MDHHS release
Enter your number to get our free mobile app