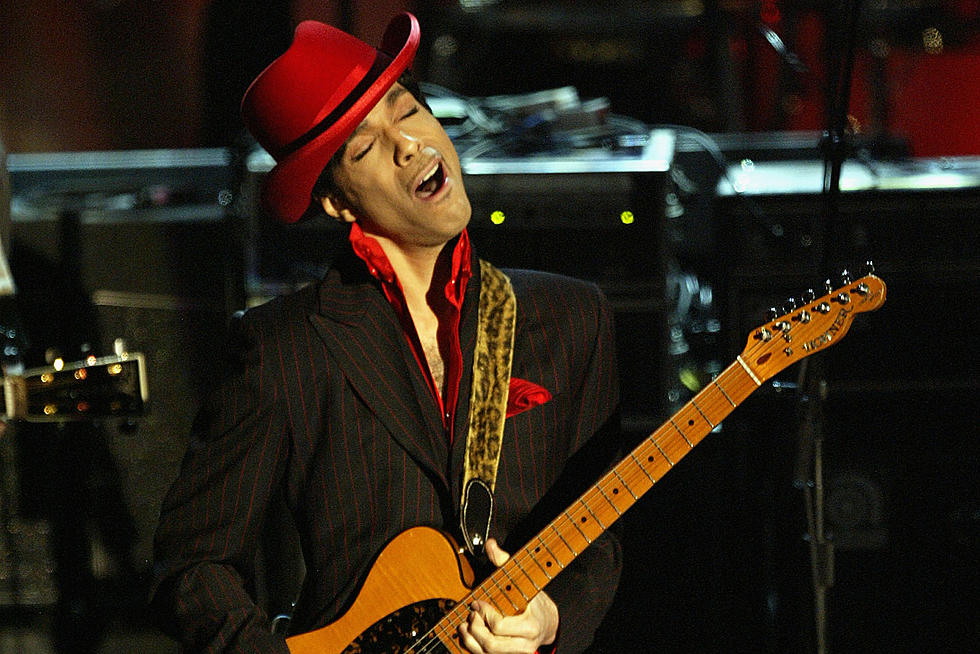 16 Years Ago: Prince is Enshrined in the Rock & Roll Hall of Fame
Frank Micelotta, Getty Images
On March 15, 2004 Prince was inducted into the Rock and Roll Hall of Fame. During a ceremony which celebrated many of music's biggest stars, none shone brighter than the Purple One.
Since its inception, the institution has been criticized for who it has and hasn't enshrined in its hallowed halls. Still, few people could have argued with the Rock Hall's vaunted 2004 class. Bob Seger, George Harrison and ZZ Top were among the year's inductees, along with the legend himself, Prince.
The Purple One opened the evening's festivities with a rousing performance featuring several of his signature tracks. From his first lines -- "Dearly beloved, we are gathered here today to get through this thing called life…" -- Prince had the crowd in attendance on their feet. The iconic musician's emphatic set included "Let's Go Crazy," "Sign 'O' the Times," a brief cover of the classic tune "Soul Man," and a super funky rendition of "Kiss." Through each track, Prince owned the stage with a presence and swagger unmatched by any other artist. Even more amazing, he was just getting warmed up.
When it came time for induction, rap duo Outkast were the first to wax poetic about the Purple One's exploits. "Prince Rogers Nelson. I mean, just in a name, it's powerful," noted Andre 3000. "First album came out when I was three years old… The guy was 17 years old, playing every instrument. The people thought it was a whole band. What Prince brings to the stage is, back in the day, entertainers, they were singers, they were dancers, they had great style, they had great personality. And I think we've lost a lot of that today. And so when it comes for me to do music, as an inspiration, Prince is most definitely one of my greatest inspirations."
Singer Alicia Keys -- then just 23 years old -- had the honor of stepping to the mic next. "There are many kings. King Henry VIII, King Solomon, King Tut, King James, King Kong, the three kings, but there is only one Prince. Only one man who has defied restriction, who's defied the obvious and all the rules to the game," the R&B singer declared as she celebrated Prince's work. Keys went on to describe the inductee as "a mysterious figure who, when a river of words will not suffice, can only be identified by a symbol, who's music is like an internal roller coaster that takes each individual on their own separate, legendary ride, and still takes listen after listen to discover and uncover even half of the story behind the intriguing and unapologetically addictive beat of music."
Keys concluded: "He is the inspiration that generations will return to until the end of time. So yes, ladies and gentlemen, throughout history there have been many, many kings, both real and mythological. They have born sons, but none of them can touch the rays from this man who stands alone."
Welcomed by a standing ovation, Prince took the stage. As the crowd quieted down, the soft-spoken legend delivered a speech of his own.
"When I first started out in this music industry, I was most concerned with freedom: Freedom to produce, freedom to play all the instruments on my records, freedom to say anything I wanted to," the rocker noted. "I embarked on a journey more fascinating than I could have ever imagined. But a word to the wise: Without real spiritual mentoring, too much freedom can lead to the soul's decay. And a word to the young artists: A real friend or mentor is not on your payroll. A real friend and mentor cares for your soul as much as they do their own. This world and its wicked system will become harder and harder to deal with without a real friend and a mentor. And I wish all of you the best on this fascinating journey. It ain't over."
Prince's most incendiary moment would happen later, when he joined an all-star lineup of rockers to close the night's ceremony. Alongside Tom Petty, Steve Winwood and Jeff Lynne, the Purple One would perform "While My Guitar Gently Weeps," the classic Beatles tune penned by fellow inductee, Harrison (the deceased rocker's son, Dhani, also took part in the performance).
For much of the song, Prince remained in the shadows, strumming guitar chords and relenting the spotlight to his fellow performers. Lynne and Petty handled vocal duties, while Winwood and members of the Heartbreakers churned out the song's familiar notes. Then, around three minutes and thirty seconds in, Prince sauntered to center stage and unleashed a furious guitar solo.
"You hear all this sort of harmonics and finger-tapping, sort of like what you'd hear Eddie Van Halen do," Rock and Roll Hall of Fame Museum curator Craig Inciardi later recalled to the New York Times. "He runs through all these different sort of guitar techniques that are sort of astonishing. You hear what sounds like someone cocking a shotgun. There's all these strumming power chords that really, really connected. Then he plays his version of the Eric Clapton solo. He evokes Eric's solo in very sort of truncated fashion. As he ends the song, he plays this flourishing thing that sort of ends up sounding a little bit like Spinal Tap, but in a good way."
Petty, who stood mere feet from Prince on stage, marveled at the performance. "I remember I leaned out at him at one point and gave him a 'This is going great!' kind of look. He just burned it up. You could feel the electricity of 'something really big's going down here.'"
"Tom sort of went over to him and said, 'Just cut loose and don't feel sort of inhibited to copy anything that we have, just play your thing, just have a good time,'" remembered Heartbreakers drummer Steve Ferrone. "It was a hell of a guitar solo, and a hell of a show he actually put on for the band."
During one moment of showmanship, Prince lurched backwards into the crowd, only to have his bodyguard lift him back on stage. All the while, the prolific musician continued blazing away at his guitar.
When the song finally came to a close, Prince flung his instrument in the air and confidently walked away. For years, people wondered where the guitar ended up, including those who were on stage with him that night. "I didn't even see who caught it," admitted Ferrone. "I just saw it go up, and I was astonished that it didn't come back down again."
Years later it was revealed that a tech caught the guitar and, under strict orders from Prince, gave the instrument to Oprah Winfrey. We prefer to imagine it never came down and is still hurtling through time and space, currently somewhere out amongst the stars - exactly where Prince belongs.
Prince's Grammy History