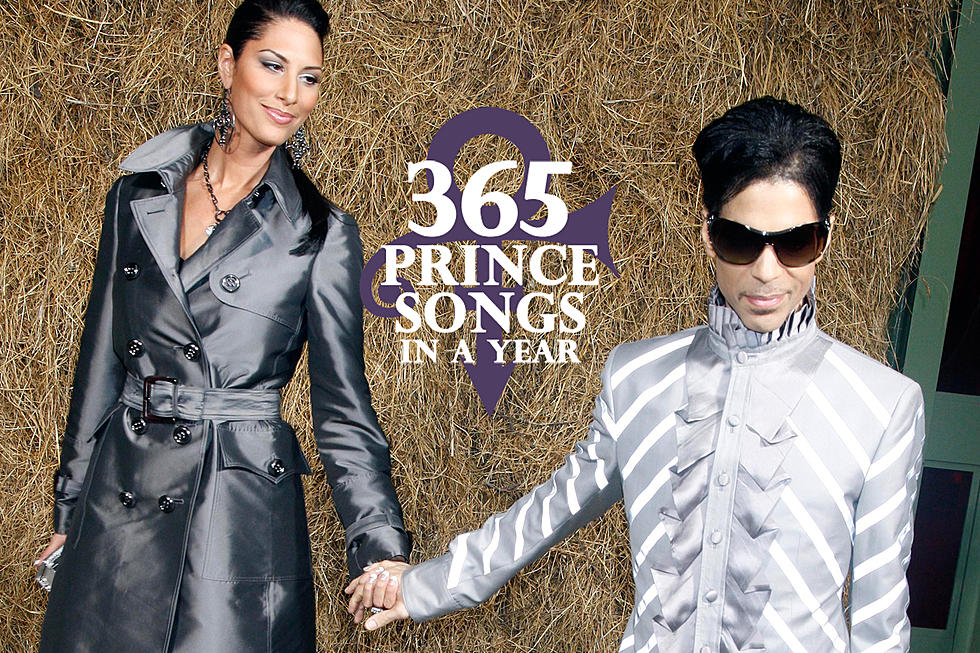 Prince Juggles Faith and a Dirty Mind on 'Elixer': 365 Prince Songs in a Year
Michel Dufour, Getty Images
To celebrate the incredibly prolific, influential and diverse body of work left behind by Prince, we will be exploring a different song of his each day for an entire year with the series 365 Prince Songs in a Year.
In the long history of Prince protégés, Bria Valente didn't reach the same levels of fame as Vanity or Apollonia Kotero, even though the album she made with Prince, 2009's Elixer, reached No. 2 on the Billboard album chart. But its position was due to the fact that, shortly after it was first released as a digital download on Prince's website, it was packaged with two Prince records, LOtUSFLOW3R and MPLSoUND, and sold exclusively at Target in the U.S. for $11.98.
Born Brenda Fuentes in Minneapolis, Valente told Tavis Smiley that she met Prince at Paisley Park when she was 17 and working with New Power Generation keyboardist Morris Hayes. From there, she moved to Los Angeles, where she worked as a model and also as a dancer for Usher, and reconnected with Prince through Hayes. He signed her to NPG Records and the two co-wrote the album's 10 tracks.
He also got her to convert to the Jehovah's Witnesses, telling Smiley, "The most interesting this about her is how rapidly she picked up understanding of scripture. Because I pretty much talk about that with everyone I know. Because it informs my life so much now. The other thing is that she's really funny and she likes to laugh."
Elixer holds an important place in Prince's later years because it brought back a bit of the steaminess that had largely been missing from his music since he became a Jehovah's Witnesses a few years earlier. His conversion famously caused him to give up profanity and disavow some of his earlier songs, so it wasn't a complete return to the raunch of, say, "Erotic City."
"This music is nasty, but it's not dirty," he told The Guardian. "There's no profanity. It isn't promoting promiscuity. [Valente is] singing about her lover, who could be her partner for life."
Prince was much more upbeat about it in speaking with Ann Powers of the Los Angeles Times, "This might be my favorite," he said while previewing the album in his bedroom. "Remember those old Barry White records? A whole lot of people are gonna get pregnant off of this!"
Elixer is mainly the story of lost opportunity, and the album is certainly easy on the ears. "We just wanted to make some stellar elevator music," Valente quipped to Smiley, while Prince told Powers, "She knows how to use her breath like I do on my falsetto, to make it glide over the track."
One can wonder what could have been if Prince brought his A-game to the material the way he did Sheila E.'s first two albums. In the book, Prince: The Man and His Music, author Matt Thorne said, "Of all the Prince protégé albums, this is the most musically somniferous (sleep inducing). The worst of the record sounds like something you'd hear in a Greek disco, but the lyrics have surprising bite."
While there is no profanity on the album, the title track comes pretty close and possibly explains why the record and song are spelled as they are, with "elixer" sounding very close to "he licks her." This particularly turned Thorne off, saying, "The punning title causing more than one Prince fan I know to shudder," and later, "His vocal presence is more prominent here than anywhere else on the record, but it's an unpleasant song, the cunnilingus punchline somehow lacking all the charm Prince used to have when using such innuendo."
Music critic Steve Jones expanded upon Thorne's critique in his USA Today review of the album: "Prince has toned down his music's Dirty Mind raunchiness since becoming a Jehovah's Witness in 2001. Still, the pop-lite Elixer, showcasing Valente's sensual yet indistinct vocals, could have really used a whiff of Prince's old 'Do Me Baby' spice."