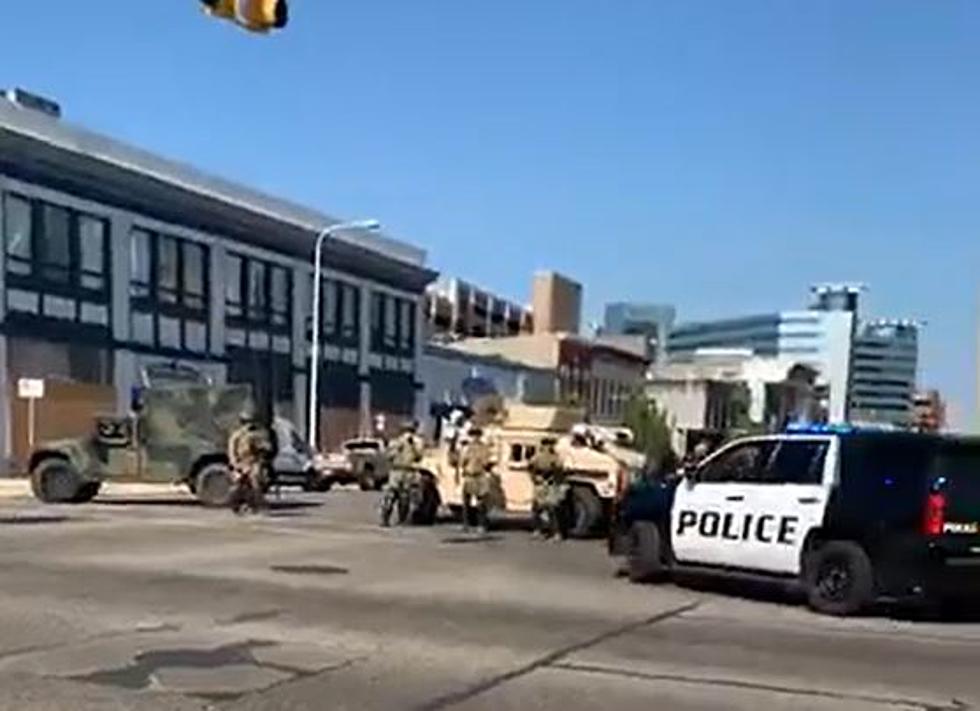 If You're Caught Downtown Kalamazoo You'll Be Arrested
Dana Marshall
"You have 10 minutes to clear the area or be arrested" echoed from the KDPS SUV on Michigan Ave. and S. Park St.
The scene during rush hour on Tuesday was shocking to say the least.  Buildings all around the downtown Kalamazoo area boarded up.  Local law enforcement along with National Guard in full riot gear carrying weapons were blocking all of the streets that lead in and out of downtown.  Protesting against police brutality is very polarizing.  In fact, some of the comments on the facebook live video are very disturbing.  Regardless of how you feel about it; it's sad to see our city like this.
If you watch the facebook live video below you'll hear many horns honking.  Some of them honking in support of the protesters some honking because of the traffic jam created by the unexpected barricades.
You'll notice a small group of peaceful protesters who obeyed law enforcement orders to move further down Michigan Avenue.
We couldn't get anyone from KDPS or the National Guard on site to speak with us about the barricades.  It's unclear why the city would choose the busiest time of day to block traffic.  Was it to limit the visibility of the protesters or was it part of an effort to protect buildings downtown?
We do not support looting or destruction of property.  However, we do stand with the protesters and the friends and family members of George Floyd, Breonna Taylor and all other minorities that have been victims of police brutality.
UPDATE: As the 7 PM curfew approached MLive caught video of the protesters lined up on one side and the KDPS, Michigan State Police and National Guard on the other.  A conversation lead to smoke grenades being deployed into the crowd.
Assistant Chief Vernon Coakley then got on one knee in solidarity with the protesters.  The group of protesters pleaded with the rest of the officer to get on one knee with them and then they would leave.  The officers refused.
Enter your number to get our free mobile app
A Nearly Empty Kalamazoo