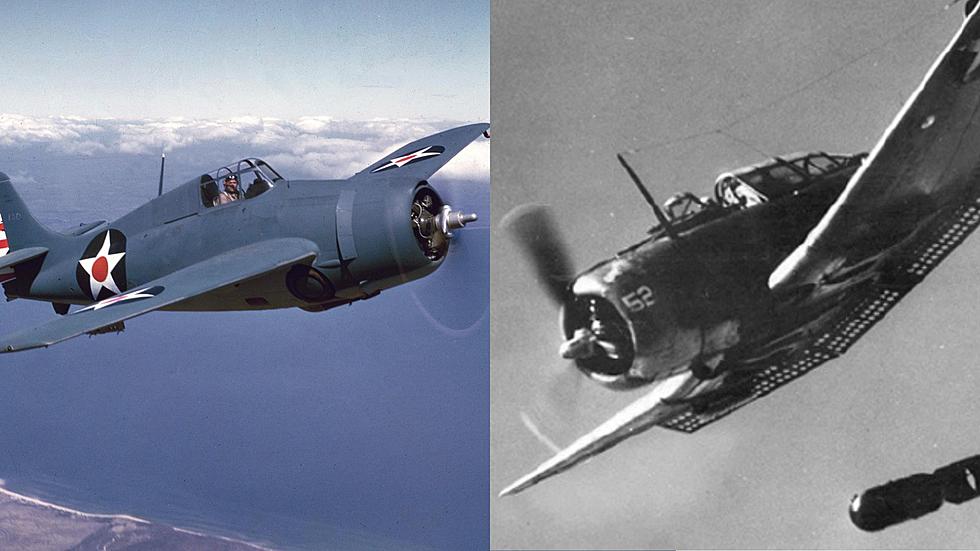 Air Zoo Receives Award For Lake Michigan WWII Plane Restoration
Canva/Wikipedia
The Air Zoo has some amazing pieces of history on display. Some have major significance to the region, and to Michigan. And some are just WAY too cool.
Their collection of military aircraft is particularly impressive, and two of their aircraft just earned them an award for their restoration process.
Members of the Air Zoo in Portage received the Historic Preservation Award, presented by the Kalamazoo-area group "Lucinda Hinsdale Stone" chapter of the National Society, Daughters of the American Revolution.
The two aircraft involved are an FM-2 Wildcat, and an SBD-1 "Dauntless" Dive Bomber, and both were rescued from the depths of Lake Michigan.
The SBD-1 in particular is special because it's the only plane of its kind remaining in existence. This specific plane went down near Chicago during a training mission in 1943 that unfortunately killed its pilot in an accident.
More than 140 volunteers from the Air Zoo are in the process of restoring both of these planes, currently. So far, they've logged more than 33,000 hours of their own time to bring these planes back to life, where they will likely be on display with the Air Zoo's hundreds of other aircraft.
The Air Zoo is located in Portage and features regular rotating exhibits, and something very rare - their own SR-71 Blackbird - on display in the main room.
Their collection of World War II-era planes, as well as some more modern, and experimental aircraft rank as one of the most inclusive in the country.
The Ultimate Kalamazoo Bucket List
"Never have I ever" Kalamazoo style. How many of these things are left on your Kalamazoo bucket list?
Everything You Need To Know About Kalamazoo As A New College Student